Frequently asked questions
Why choose WTL-A700 crane lmi system?
What's Load Moment Indictor Meaning?
Load Moment Indicator (LMI), also known as Rated Capacity Indicators (RCI),  or a Safe Load Indicator (SLI) or an Automatic Safe Load Indicator (ASLI)
is a device which is installed on mobile or portal cranes to alert the operator if the lift is exceeding the safe operating range of the crane. In some cases, the device will physically lock
the machinery in circumstances it determines to be unsafe. LMI systems are usually composed of a microprocessor connected to various sensors on the crane itself. The LMI
measures the angle and extension of the boom along with the load weight and compares this with the manufacturer's specifications to determine if the lift is safe.
A safe load indicator has the capability of detecting the angle, weight of load lifted, and ground radius of any lifting device. It controls the lifting equipment to the level that it tries to
keep the crane functioning as per the manufacturer's suggested safety charts. The crane is fitted with multiple sensors, for each of the measured parameters, which are then further
displayed in the operator's cabin for his benefit.
How Does a Load Moment Indicator Alarm Working?
Sound and light alarm function: when the crane boom work amplitude limit close to work, when lifting load and torque device close to the permitted load limit, torque system issued a
warning of slow beeping sound. Warning lights flashing slowly torque system.
When jib frame work scope to work limit, when the lifting load and torque reaches equipment when the permitted load limit moment send urgent alarm beeping sound. Shortness of
loading system alarm indicating three color warning light flashing.
•The LMI is an operational aid that warns a crane operator of approaching overload conditions and over hoist conditions that could cause damage to equipment and personnel.
•The device is not, and shall not, be a substitute for good operator judgment, experience and use of accepted safe crane operating procedures.
•The responsibility for the safe crane operation shall remain with the crane operator who shall ensure that all warnings and instructions supplied are fully understood and observed.
•Prior to operating the crane, the operator must carefully and thoroughly read and understand the information in this manual to ensure that he knows the operation and limitations of
indicator and crane.
•Proper functioning depends upon proper daily inspection and observance of the operating instructions set forth in the operators manual
Why Choose WTAU Brand Crane Load Moment Indicator System?
Our WTL-A700 crane safe load indicator (SLI) can be fitted with any type crane that is used to alert the operator if the lift is exceeding the range. Our Offered systems are
manufactured using excellent quality components. So, You can rest assured that our crane safe load indicators give you a long functional life and hassle free performance.
WTAU Brand LMI System Advantages:
•    Easy to Install
•    Accurate display of value
•    Excellent Sensing
•    High Performance
•    Low Maintenance
•    Can fitted with all types (mobile, crawler, tower etc) cranes
•    An optional data logger that can be used to record all the lifting activity
•    All Our Indicators comes with the 1-year warranty.
If you're looking for crane indicators that save time and money, the WTL-A700 safe load indicator is a fully capable LMI at a cost-effective price. The WTL-A700 LMI is perfect for telescopic boom cranes & lattice boom crawler cranes giving you all the benefits of a crane safety system without all the expense.  The 8" full color touched LCD display is easy to read in bright sunlight and has selectable units and languages (English & Spanish).  It is rated IP65 for use in open and closed cabs. The WTL-A700 will monitor the load, capacity, boom angle, length, radius and ATB on both hoist lines.  All WTL-A700 LMIs for mobile cranes & crawler cranes can be sent pre-calibrated and load charts and calibration data can be saved or uploaded via a USB connection.
WTAU focusing on crane lifting equipment safety management since 2002.China leading brand OEM manufacturer of load moment indicator system.
The Trusted Crane Lmi System supplier for  top 100 crane owning companies like Sarens,Tiong Woon,Tat Hong, Asiagroup, Big Crane, and Top 500 companies such as ABB,
Macgragor,TTS,Saudi Aramco,Chevron,CNOOC, COSL, SINOPEC,etc  . Products are been sold to over 60 countries and regions globally.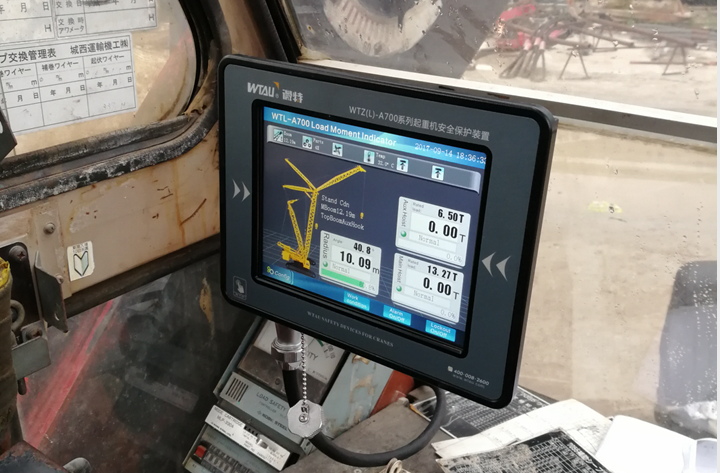 What you need to know about wind speed measuring instruments?
What Measures the Wind?
The wind is the noticeable movement of air, usually in the form of a current of air blowing from a particular direction. The wind is caused by a difference in air pressure in the atmosphere. Being able to measure and understand the wind patterns is important to pilots, engineers, sailors, and climatologists.
One of the main attributes that can be measured is wind direction, which is measured by the wind vane. What measures wind speed? Wind speed is measured by the anemometer.
What Does an Anemometer Measure?
What instrument measures wind speed? An anemometer is a wind pressure and wind speed measuring device. They are used to study weather patterns and track approaching storms. Anemometers come in a number of different types. How does an anemometer work? Some have devices that catch the wind and spin the whole structure, so the faster the wind blows the faster the anemometer will spin. Other anemometers rely on pressure differentials, electrical currents, sound, or pressure sensors. Because the wind does not blow at a constant speed (rather it gusts and lulls), the anemometer usually takes an average of wind speed over a short amount of time.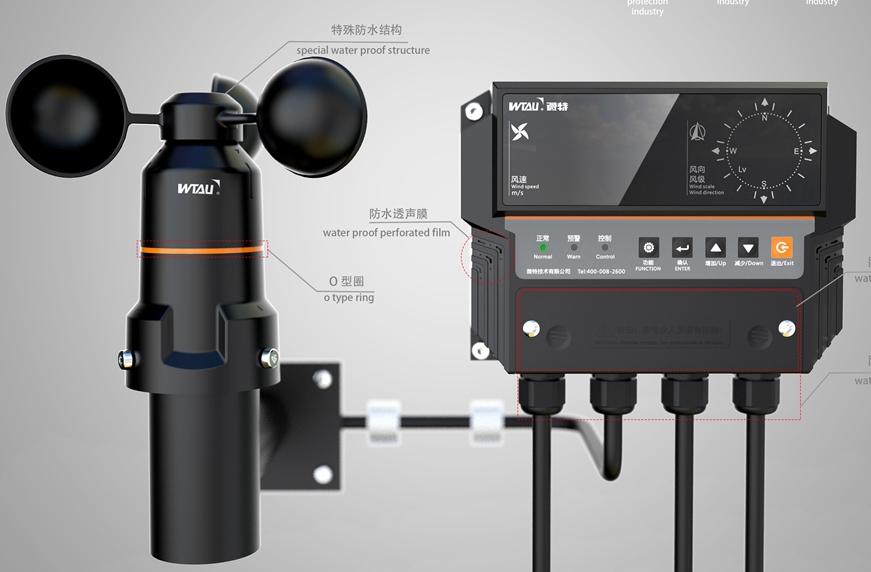 Wind speed sensor & wind direction sensor are used for wind speed and direction measurement.
WTAU offers a wide range of wind speed and direction sensor & wind sensors with wind cup principle,
they are designed to be used within the hardest environmental conditions such as harsh marine environments and high accuracy EPA requirements.
What is an anti two block warning system?
The anti-two-block warning system or indicator is also known as an A2B or ATB indicator for short. This is the minimum crane safety indicator all cranes should have. It warns the operator when the hook block is getting too close to the boom tip. A2B warning systems come in wireless and wired versions. The only difference is one requires a cable to connect from the display to the A2B switch at the boom tip and the other uses a wireless transmission for the connection.
The ATB warning system uses a switch at the tip of the boom with a weight on a variable length of chain hanging down the hoist line. When the hook block comes up it lifts the weight which closes the ATB switch and sets of the ATB alarm in the cab. This alerts the operator and anyone in the area that the crane is close to having a collision with the hook at the boom tip.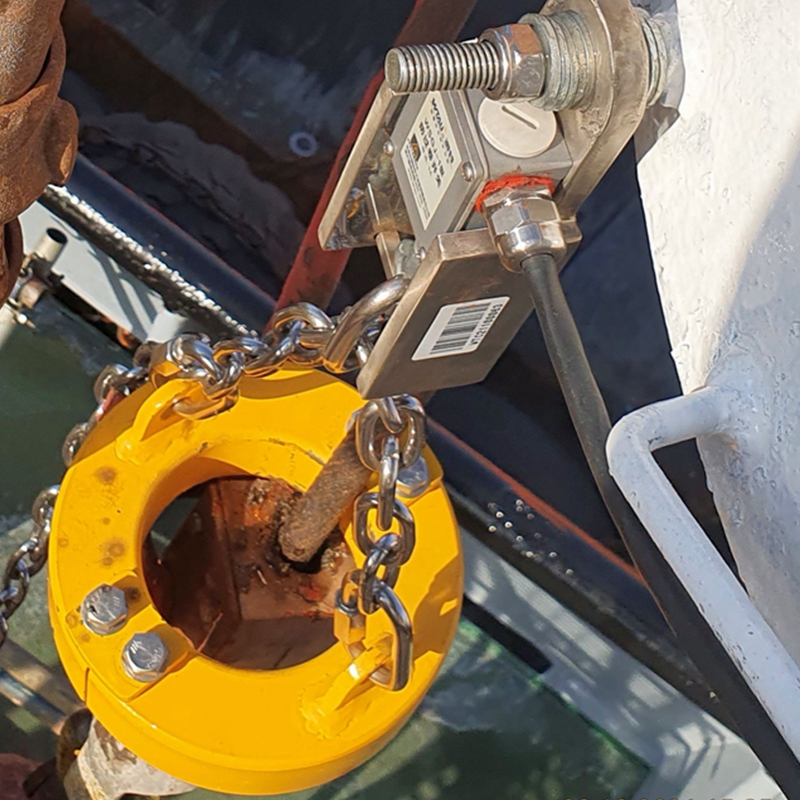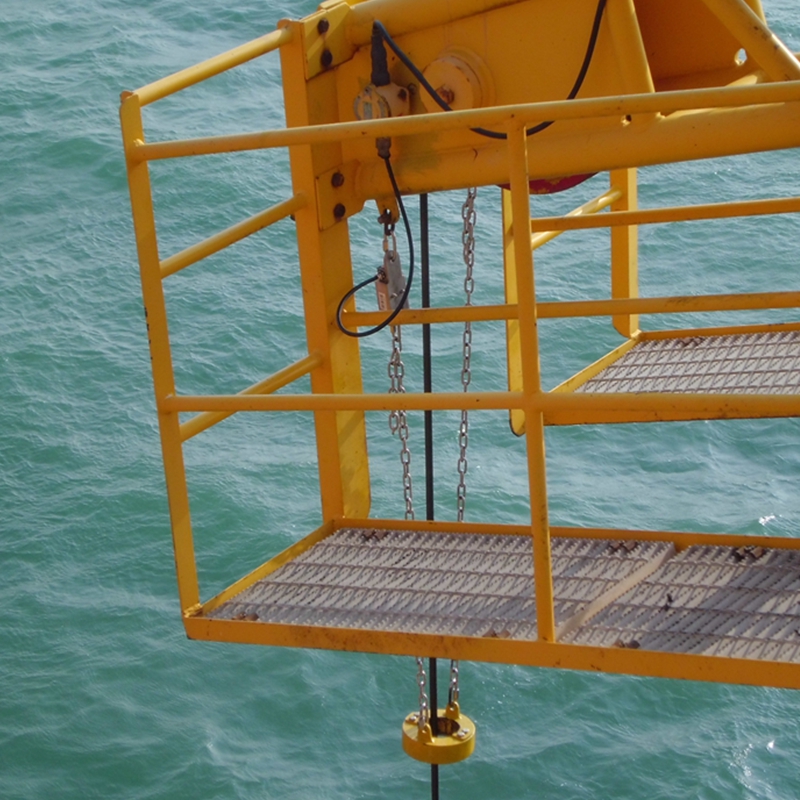 This is a picture of a wired ATB switch and the weight and chain hanging from it which holds the switch open. In the picture the block is getting close to lifting the weight which will let the ATB switch close and set off the two-block alarm.
What is a limit switch in a crane?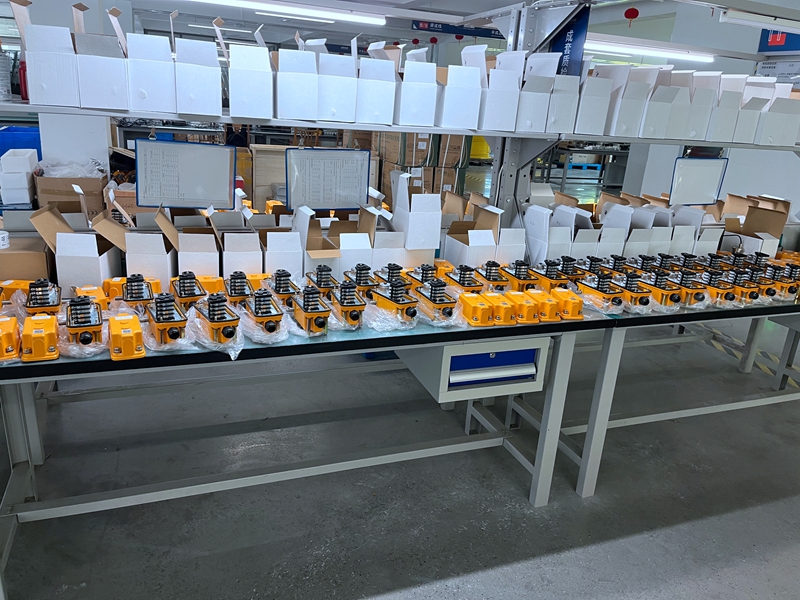 Cranes may have several limit switches, and it's all dependent upon crane type.
We supplied crane limit switches for lots of crane manufacturers. (EOTCs, Overhead Cranes,Gantry Cranes,or Electric Overhead Traveling Cranes)
They could have a number of limit switches.
Upper and lower limit switches to avoid rope sheaves crashing together, or rope going slack and coming out of the scrolled grooves of the rope drum.
Load limiting switch, avoiding overload.
Cross travel limit switches. (either side) avoiding crashing into stops.
Long travel limit switches (either end) avoiding crashing into stops.
Limit switches on cross and long travel to reduce the speed of travel to "low" close to the end of travel, so the crab or end carriages can't crash into stops at high travel speeds.
Anti collision limit switches (or radar) to avoid two cranes on a common set of downshop rails from colliding.
Hitting end stops or another crane causes loads to swing, and may cause injury to personnel or damage to loads.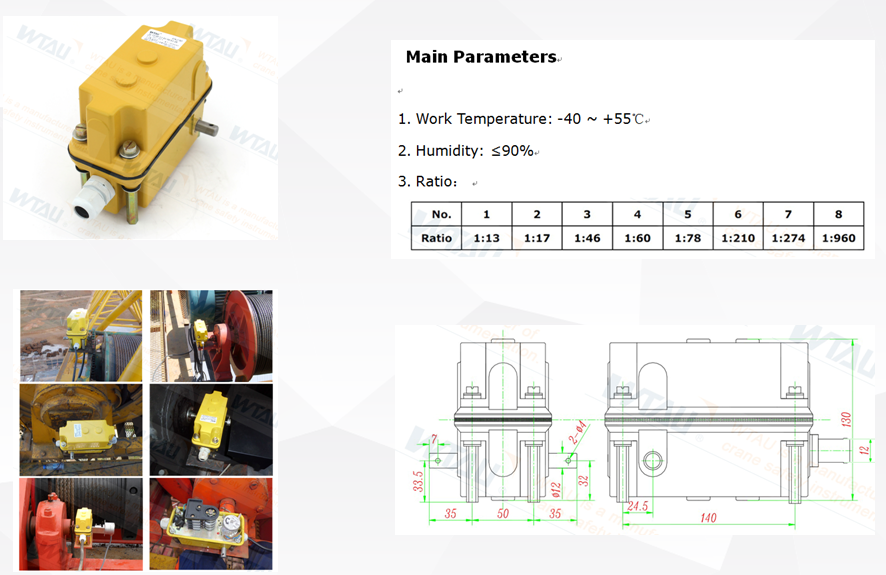 How is WTF-B500 3cup wind speed sensor/Anemometer been tested?

1. Circuit and programming testing
2. Program upgrading
3.High temperature aging test
4.Power frequency magnetic field anti-interference test
5.Electrostatic discharge experiment
6.Lightning surge test
7. Various environmental simulation and electronic detection tests in the laboratory
8. Provincial Meteorological Bureau wind tunnel test
9. Field comparison test
HOW OVERHEAD CRANE SAFETY CAN PREVENT ACCIDENTS
Amid recent news of a terrifying double crane collapse on August 3, which crushed multiple homes and shops in Holland, the importance of overhead crane safety continues to show that it cannot be stressed enough. Cranes and hoists are necessary in many construction applications, such as the building of the bridge in Holland where this recent collapse occurred. Equipment failure and improper use of cranes cause accidents, property damage, injuries and fatalities every year. Implementing overhead crane safety that recognizes hazards and adheres to simple inspection and safety guidelines can reduce the likelihood of these unfortunate events.
Hazards You Should Look Out For
Electrical Hazards. Coming into contact with energized power lines can be deadly; the rule of thumb is to assume all lines are live. Although it usually harms the person in direct contact with the crane, there is a risk of others being injured. Pre-job safety planning can be instrumental in preventing electrical dangers. Local safety regulations will outline a safe distance between operators and power lines. Marking off the safe distance with tape and signs can be helpful for providing a visual aid to the crane operator.
Overloading. Common sense says that a crane should never be overloaded past its rated weight capacity; otherwise, you risk collapse of the crane toppling over. However, it does often occurs when an experienced operator decides to trust their instinct on what sort of load their crane can bear, instead of following safety procedures. Using load-measuring systems and other technologies can help prevent overloading.
Side pull. Cranes and hoists are designed to lift straight up and straight down according to the Hoist Manufacturers Institute and the Crane Manufacturers Association of America. A side pull can cause the wire rope to come out of its groove and damage itself by scraping against the drum or remaining rope. It's not unheard of for the rope to jump the drum itself, causing it to tangle around the shaft and put additional stress on the rope.
Falling materials. There's always a risk of falling materials at any construction site. Mechanical failure, slippage, visual impairment, and incompetency on behalf of the crane operator are all potential causes. It's important for workers to wear their hardhats and engage in personal safety measures; however, that is often not enough to prevent injury or fatality when a load is dropped.
Braking issues. A contributing factor to the hazard of falling materials is reliance on second braking. Primary and secondary brakes are required for all hoists, and electric hoists will have a drum brake or fail-safe disc brake. These are to ensure that the crane will continue to hold its load if the power suddenly goes out.
Secondary Brakes are not Foolproof
There are two main types of secondary brakes, mechanical load brakes and regenerative brakes. Mechanical load brakes are rarely used because they are expensive and generate a lot of heat. Regenerative brakes are more common, but they are not designed to hold the load in the result of a primary brake failure, instead they will lower the load at the standard operating speed.
Keep in mind that no matter what kind of secondary brake a crane or hoist is using, it is unsafe to walk beneath a load. Whether the load takes a controlled fall or just drops, the results for anyone underneath the load could easily be fatal. Proper overhead crane safety assumes that the crane operator is not relying on the assistance of secondary brakes.
Overhead Crane Safety Calls for Daily Inspections
A simple safety check requires the operator to use their eyes and ears and keep record of what they find. A visual survey can often confirm whether the:
Area is clear
Crane looks operational
Crane might be in need of repair
It's also important to check to make sure that the end stops are in place and functioning. Crane operators should make sure that the hoist is working in all directions, and that the buttons' directions match its movement. Safety circuits will be disabled and all of the directional buttons will be wrong if the power phases happen to be reversed.
An experienced operator can tell a lot by listening to the crane as well, including unusual sounds when running up the hoist, or trolley and bridge movement. After examining the hoist and going through your inspection checklist, make sure to document any changes or anything unusual.
Although they only take a few minutes and are required by OSHA and most regulatory agencies worldwide, not everyone performs daily inspections on their cranes. The task doesn't require any special maintenance personnel; all it needs is an operator checking a simple checklist. This one task is a simple step in overhead crane safety and is critical to preventing property damage and injuries.
Most if not all of the accidents associated with overhead crane use are easily preventable by paying attention to potential hazards, performing daily inspections and just using common sense.
How to become the crane Lmi systems supplier for a terminal?
Rizhao Port is a terminal with 30 years history which has evolved from a single coal export port to one of the top ten comprehensive modern Chinese ports, from the Oriental Bridgehead of the New Asia-Europe Continental Bridge to the "One Belt One Road" two-way hub., its importance in the China port status More and more prominent.  "Rizhao" means The first light of sunrise take this port first.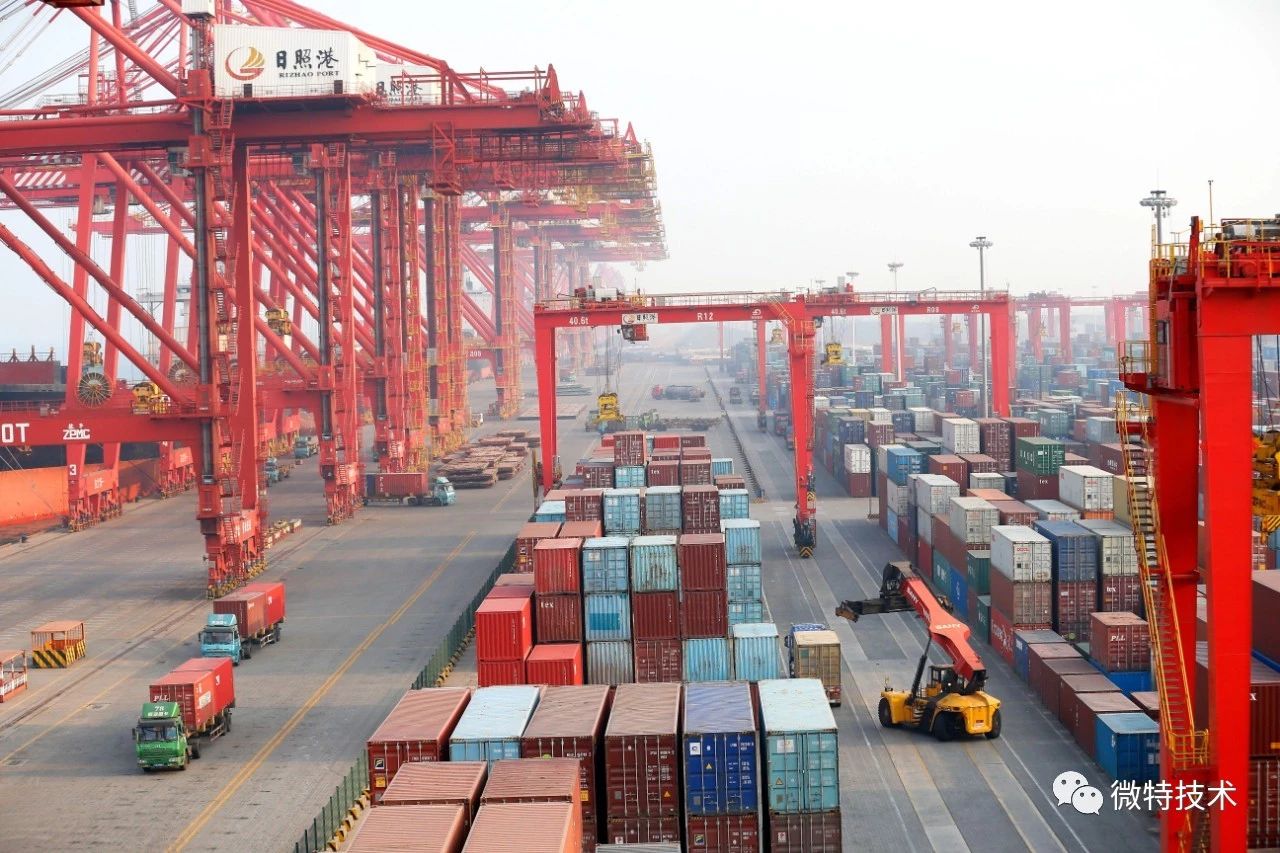 Weite has always paid attention to the development of the port industry and the safety of port lifting equipment since its establishment from 2002,. Considering the long working hours of port cranes, frequent full and even overload conditions, the safety of equipment and operators is facing serious challenge. For this reason, Weite has specially developed crane load moment indicator system for port lifting equipment from its establishment.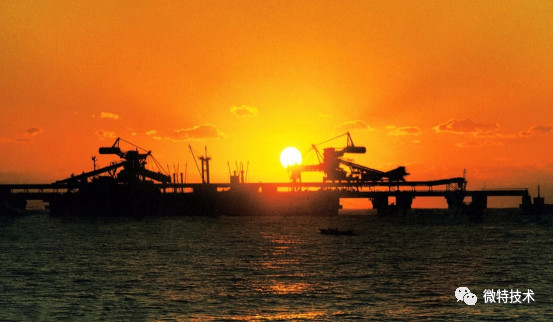 With more than 17 years experiences, Weite's onshore & offshore crane load moment indicator system has provided products and services for Pedestal Deck cranes, RTG cranes , overhead cranes, Gantry cranes and Container cranes and other lifting equipment in major domestic and foreign ports. It has gradually become the first choice brand of safety protection devices for port cranes at home and abroad.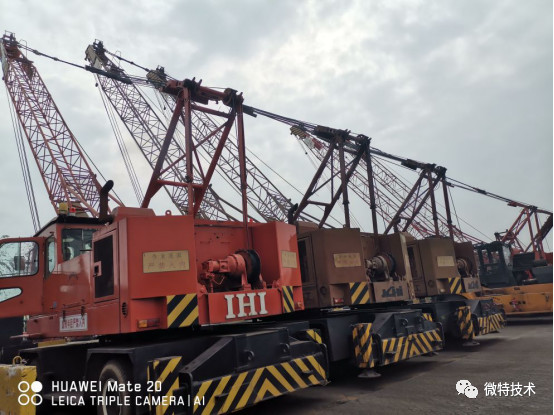 Rizhao Port, as China's largest import port of soybeans and wood chips, also has a lot of supporting lifting equipment. In order to ensure the safe and stable operation of various cranes, to ensure that all types of goods can be smoothly landed, and the products are installed with high quality and reliable ,The crane load moment indicator safety devices has become an urgent concern for leaders at all levels.Finally, after comparied with several suppliers , Rizhao terminal signed dozens of WTL-A700 crane safe load indicator systems(sli/lmi/rci/sli) with Weite in 2018. After the product installation and commissioning were completed, the operation was very stable and was unanimously approved by the various departments of the terminal.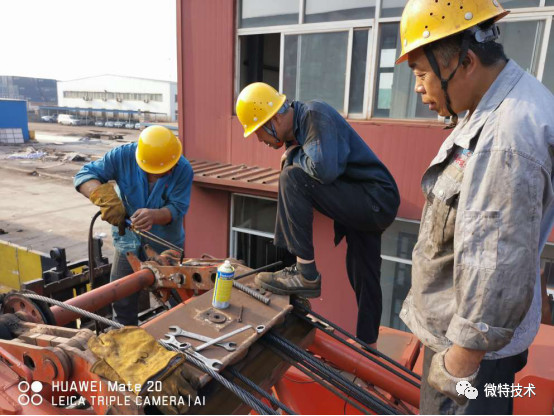 After dozens of WTL-A700 crane lmi  systems orders in 2018, Rizhao Port renewed the load moment indicator  systems  of several cranes with Weite in 2019. At present, all products have been installed and commissioned, and the user has passed the acceptance check. At the same time, Weite will continue supporting the high quality crane lmi systems  for Rizhao terminal in the future.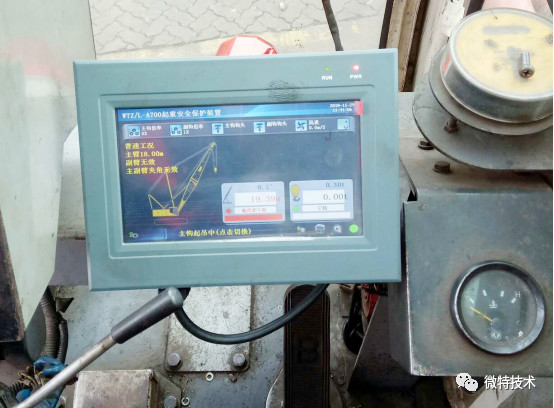 Weite will also strictly control the product quality and service , focusing on the user demands as our first goal,  offer  valuable  safety solution for all  the customer.
What you need to know about crane safe load indicators(1/2)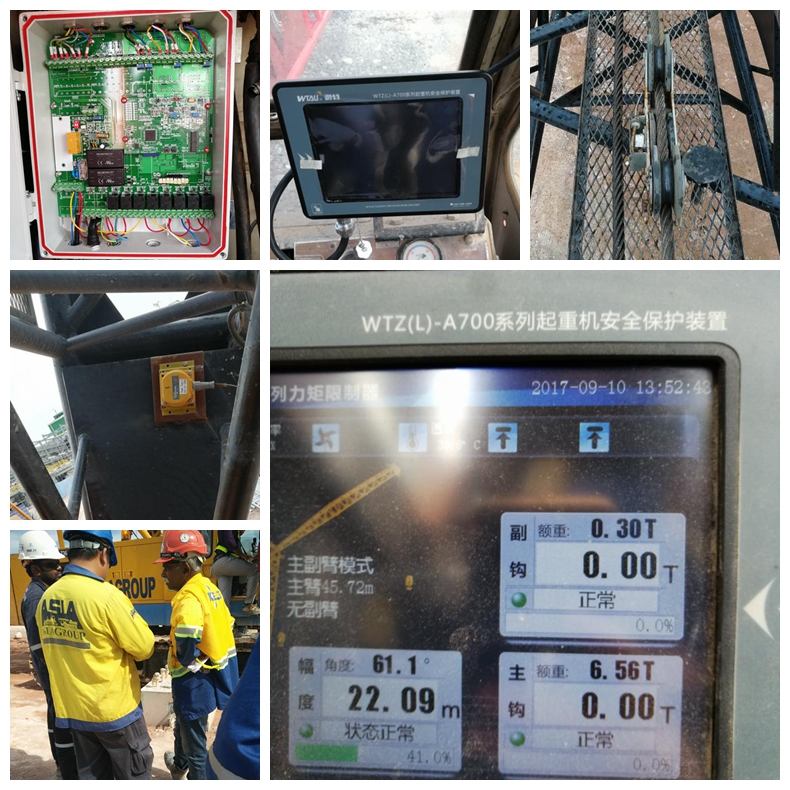 WTAU-A700 Safe load indicator for Crawler Crane
Safe load indicator(also referred to SLI or load moment indicator LMI) is a device that indicates if the load lifted by a crane is within the safety range or not. Safe load indicators are not a new invention. They have been in use for over 50 years; although it has undergone considerable technological changes over time and today we have quite a sophisticated yet user-friendly system in use, such as WTL-A700 from Weite Technologies Co., Ltd. It is not only used to alert for maximum weight exceeded but is also for weighing, measuring loads, load testing, load measuring and control cable tension. Certain crane safe load indicators even automatically lock the machinery if the load lifted by the crane exceeds that safety range.
So how do crane safe load indicators work? They work through measurement of load moment. Load moment is a term commonly used in physics and engineering. It is calculated as the product of force and moment arm. Now, this might be a bit technical for those who are not well versed with engineering. We use the example of cranes to understand this fully. So to explain there are three important things to understand.
•Reference Point – is the point at which the crane rotates.
•Force – the force is measured vertically based on the center of gravity of the load.
•Moment Arm – is the horizontal distance between the force and reference point.
The reason we defined there is to understand load moment. Load moment which is the product of moment arm and force is of critical importance to crane operators. There is quite a lot of engineering to understand behind this but thankfully we do not need to get into it. Safe load Indicators have replaced the need for cranes operators to make calculations or rely on gut instinct.
Crane safe load indicator devices operate through microprocessors that are connected to the sensor located on the different parts of the cranes. It is not a simple weight and warms indicator. In fact, the safe load indicator is a sophisticated device that uses the angle, weight and ground radius of the crane. In the cabin of the crane, the operator has access to the displays of all the sensors placed on the crane.
Safe load indicators come for different types of cranes including crawler cranes, hydraulic cranes, port cranes, rail cranes, tower cranes, telescopic cranes, and boom cranes. Safe load indicators help crane operators by providing critical information that the operator requires to make a decision regarding the lifting of the weight.
Crane Safe Load Indicators have multiple alert options such as:
1.To alert for maximum angle exceeded – this helps the crane operator whether the load is in danger of falling or not to go beyond that angle.
2.To alert for maximum load – of course, this is the basic purpose of the crane safe load indicators.
3.To alert for maximum radium exceeded – so the crane's operator knows that the load might be at risk of falling if it is raised any further.
4.To alert for maximum wind speed exceeded – so the crane operator can make appropriate speed and height adjustments.
How to do the crane LMI(load moment Indicator) Setting?
How to do the crane LMI(load moment Indicator) Setting?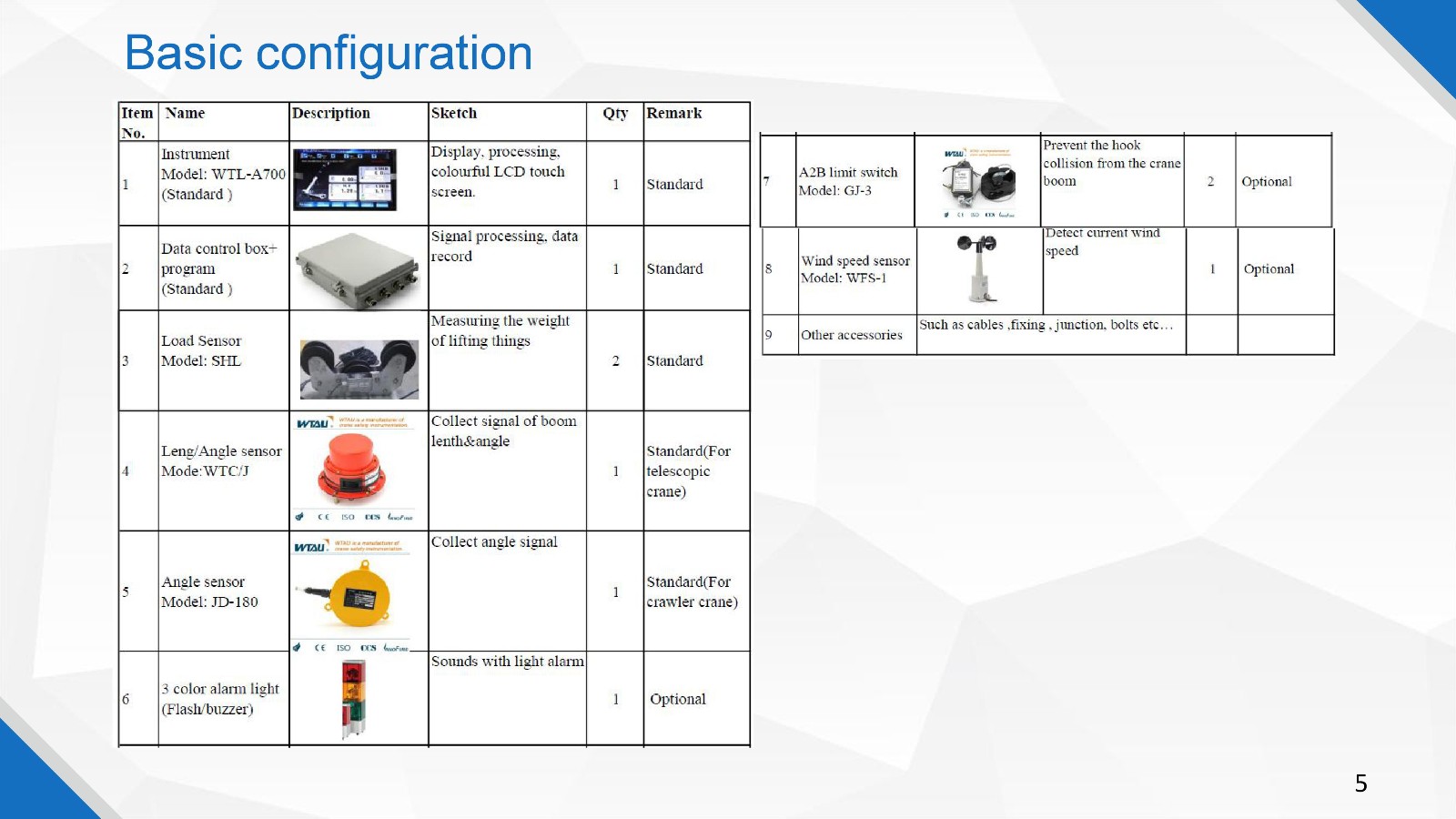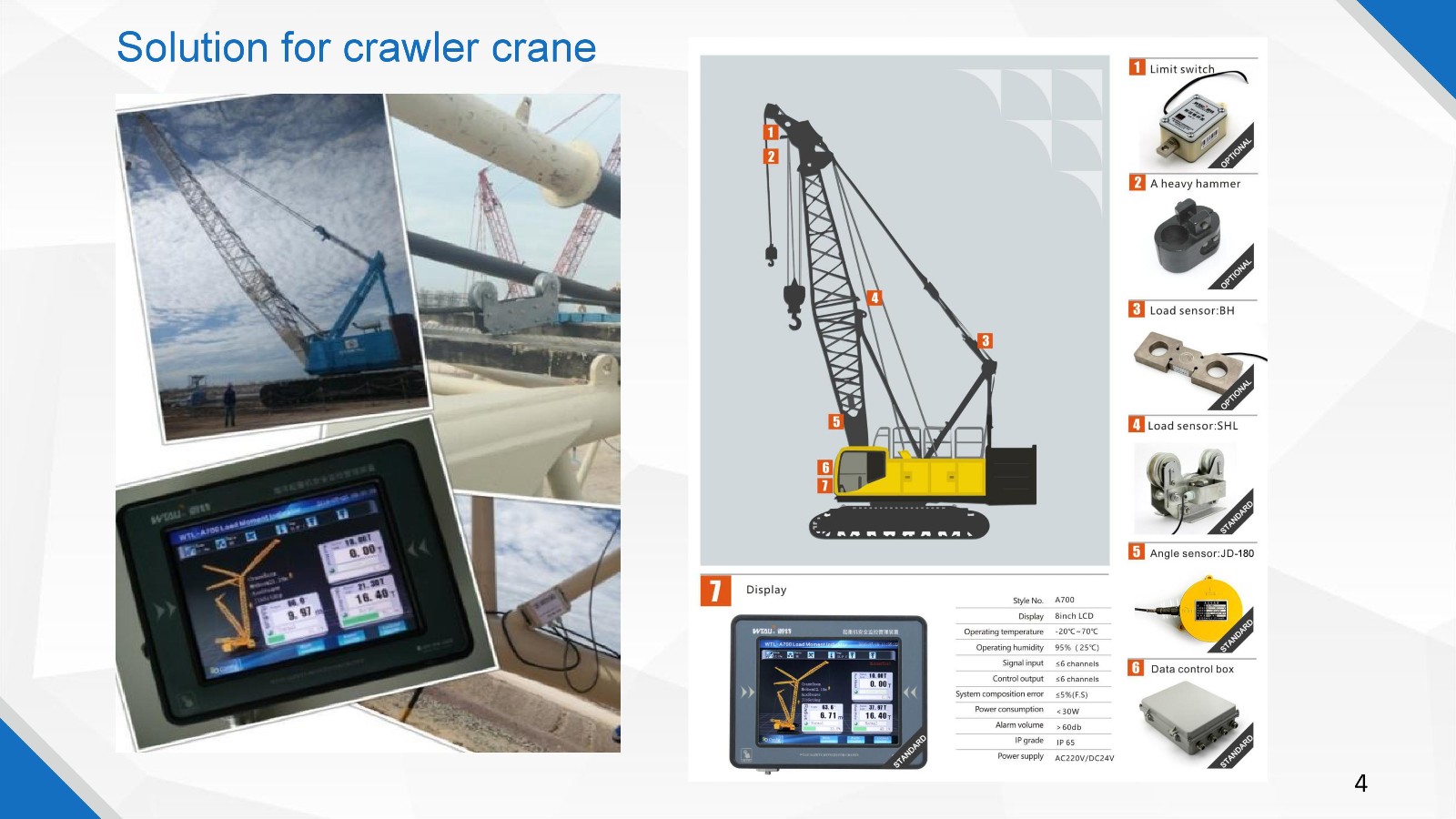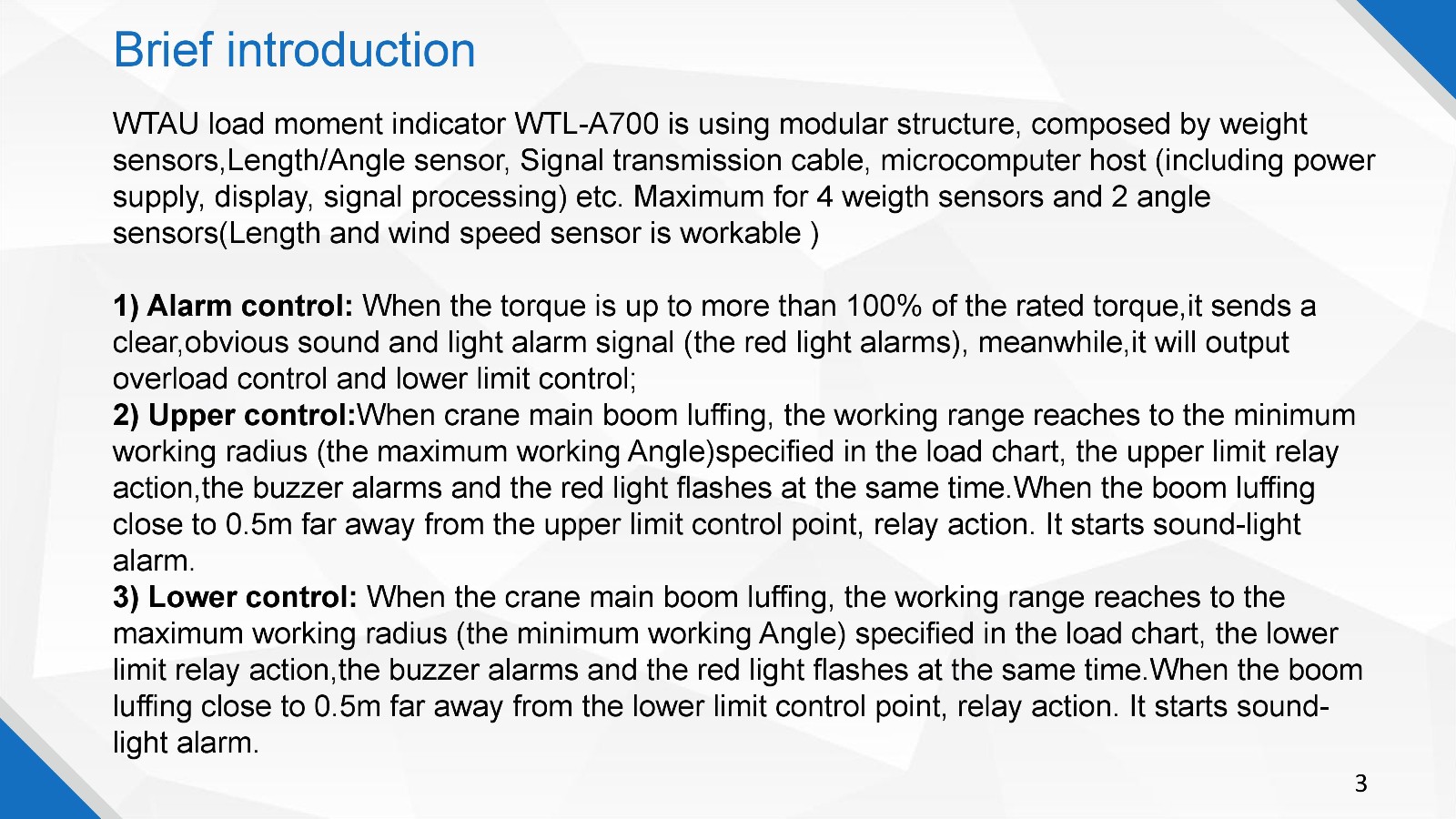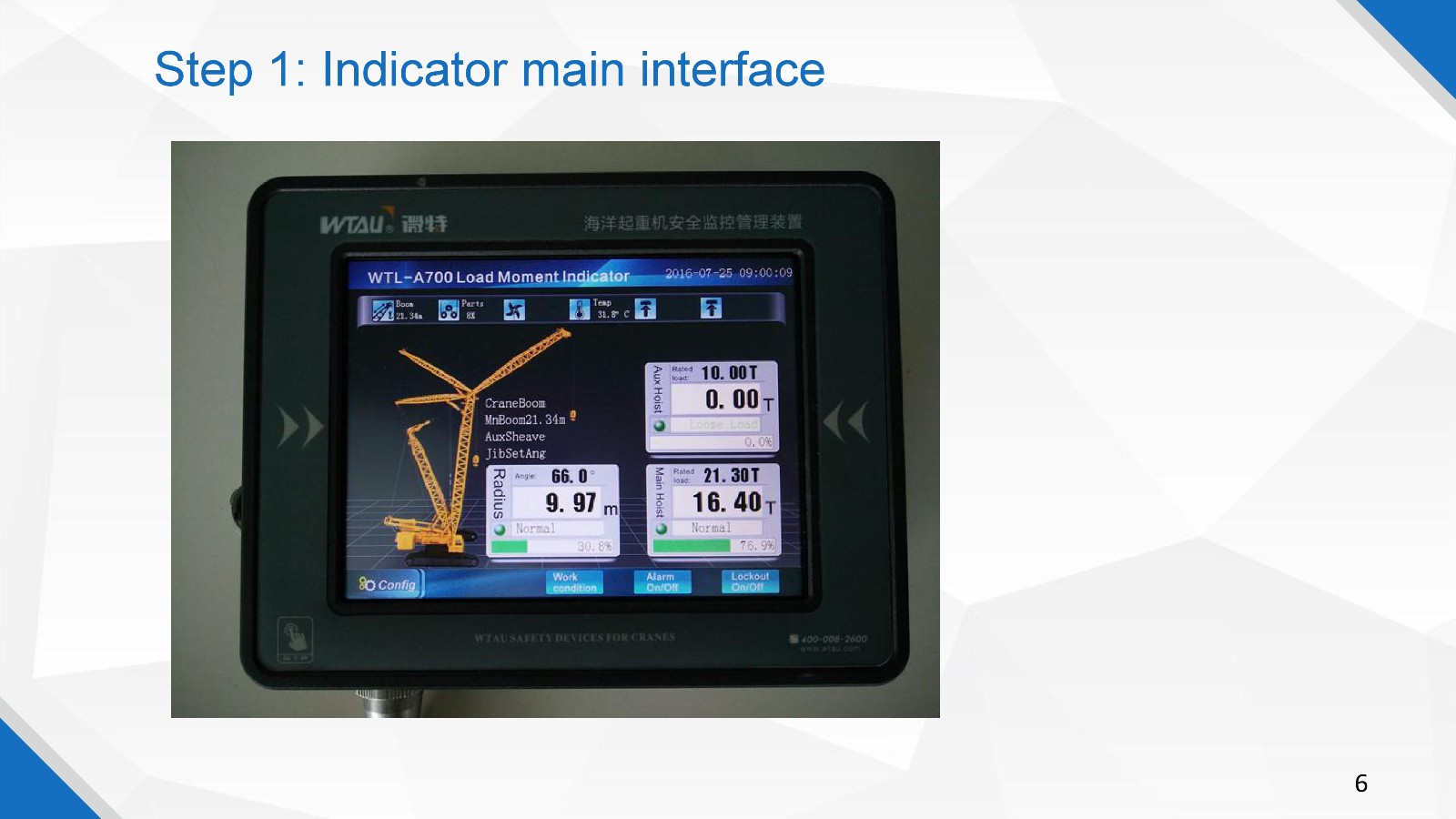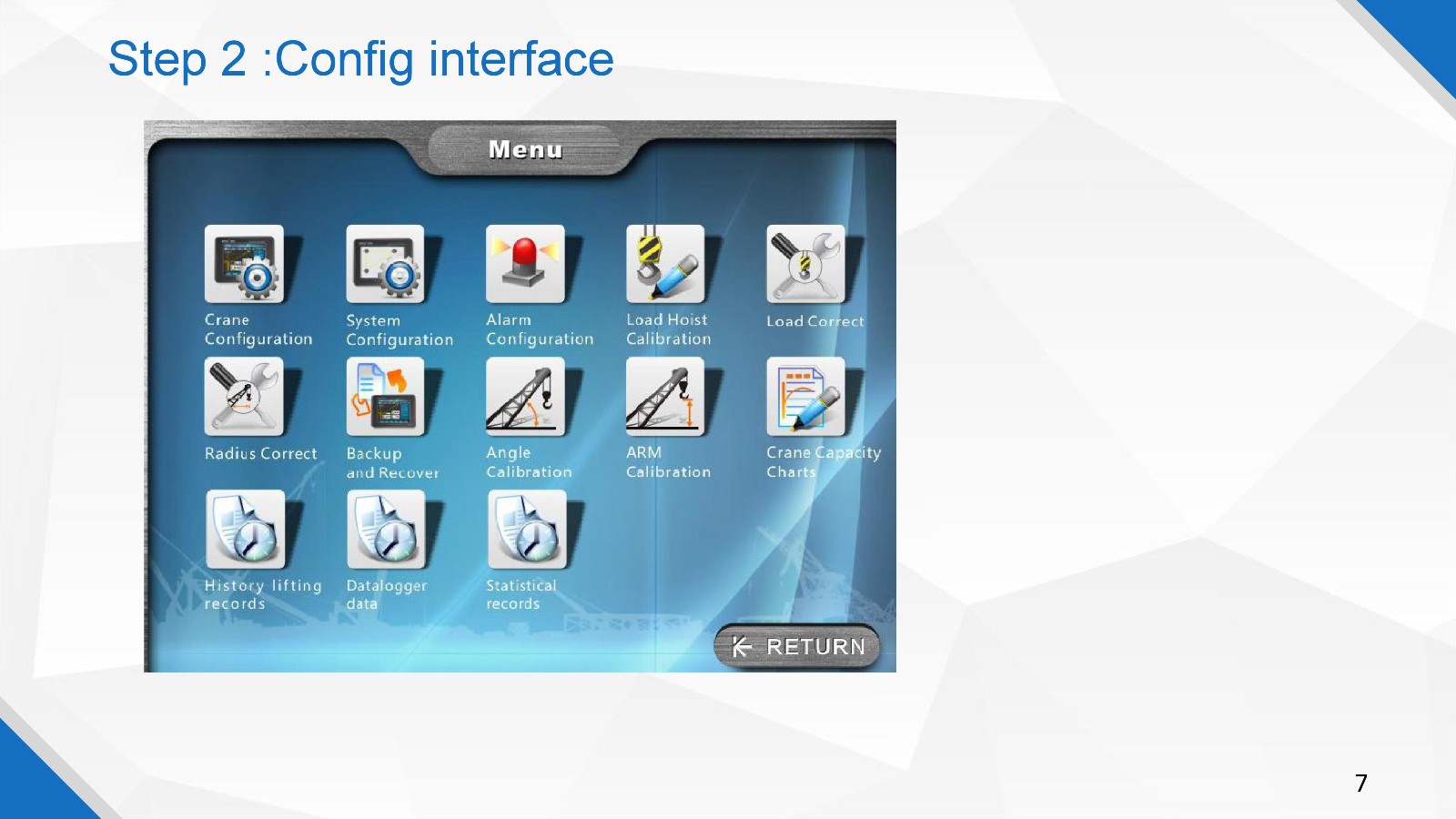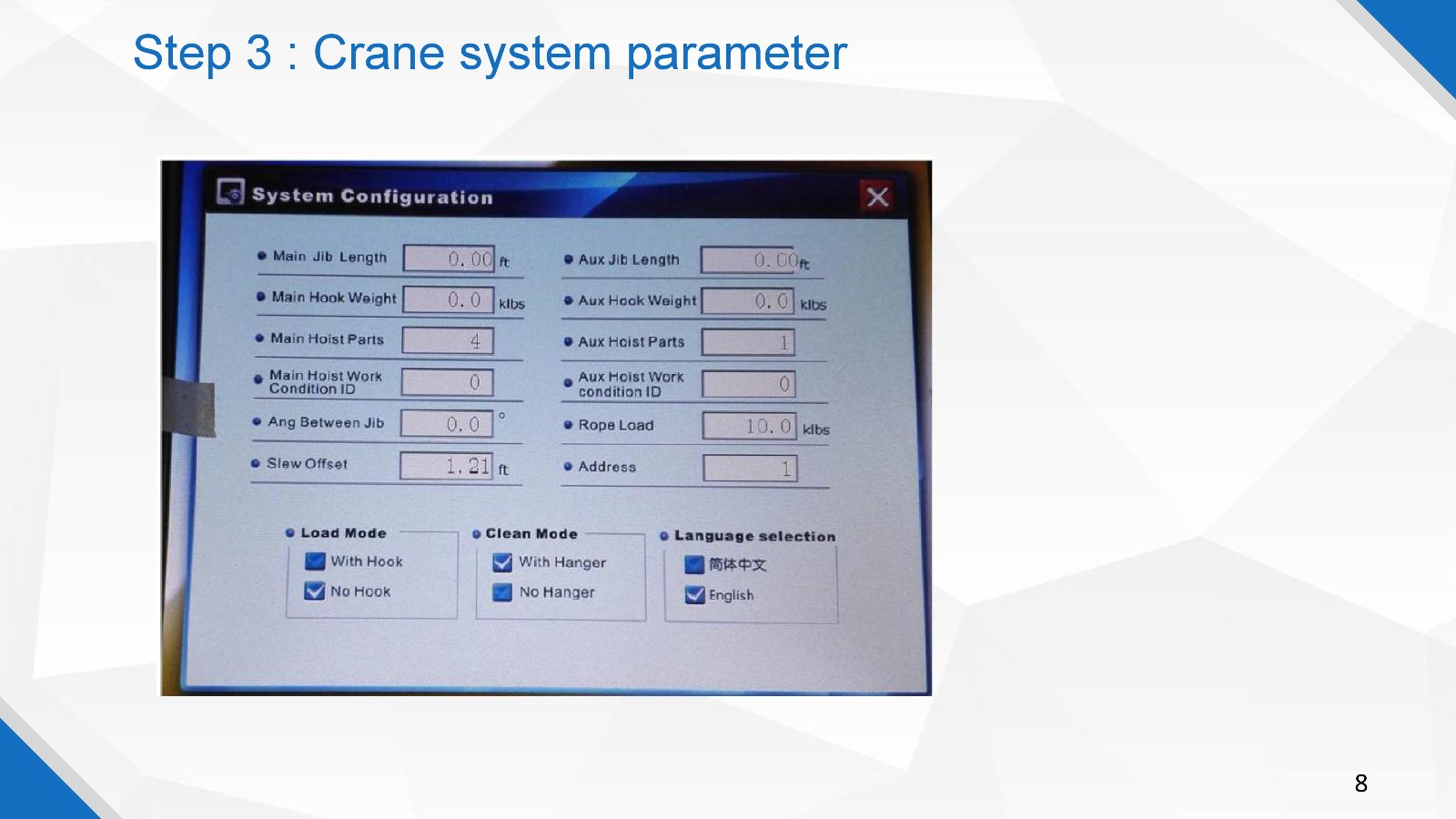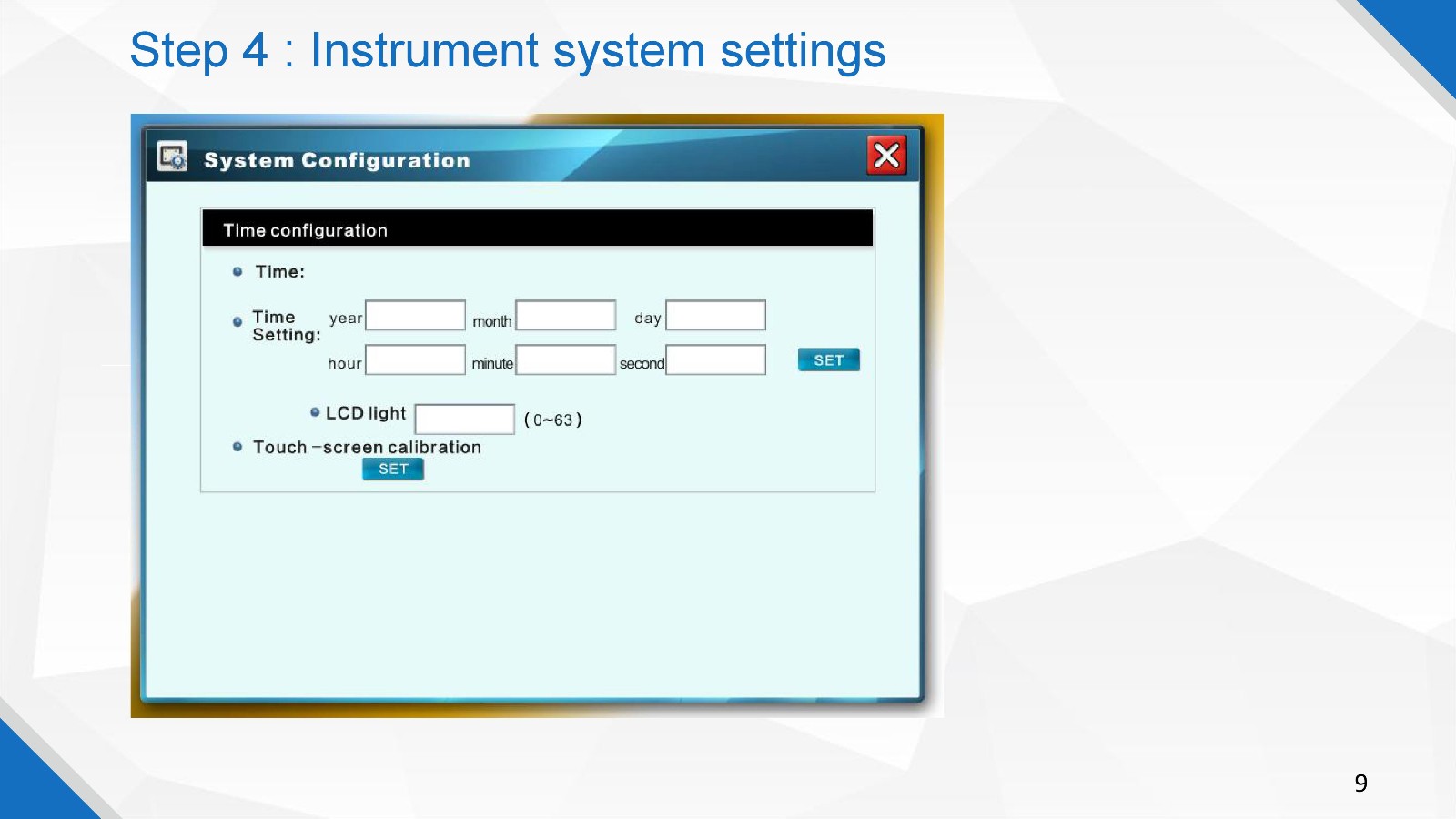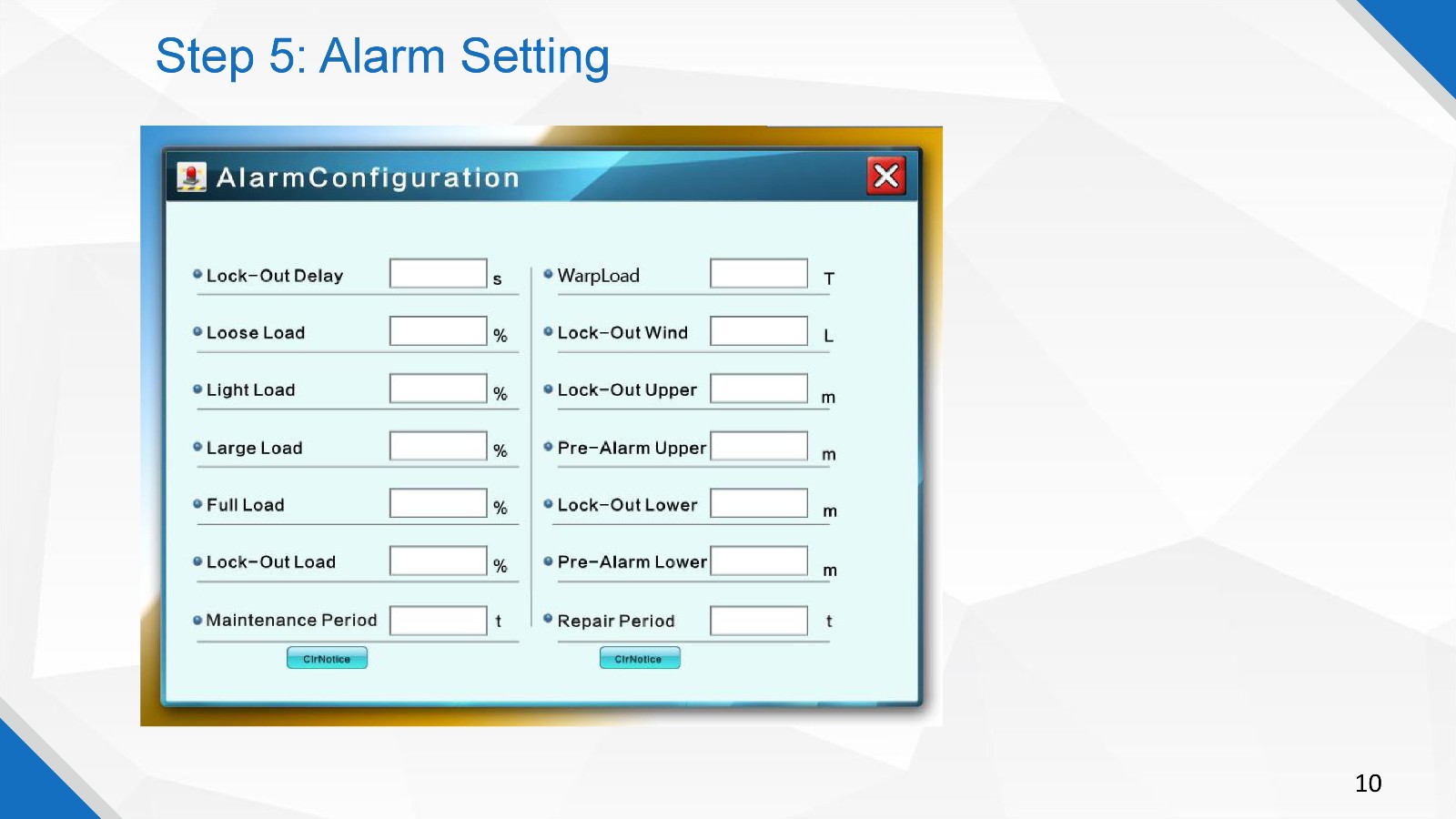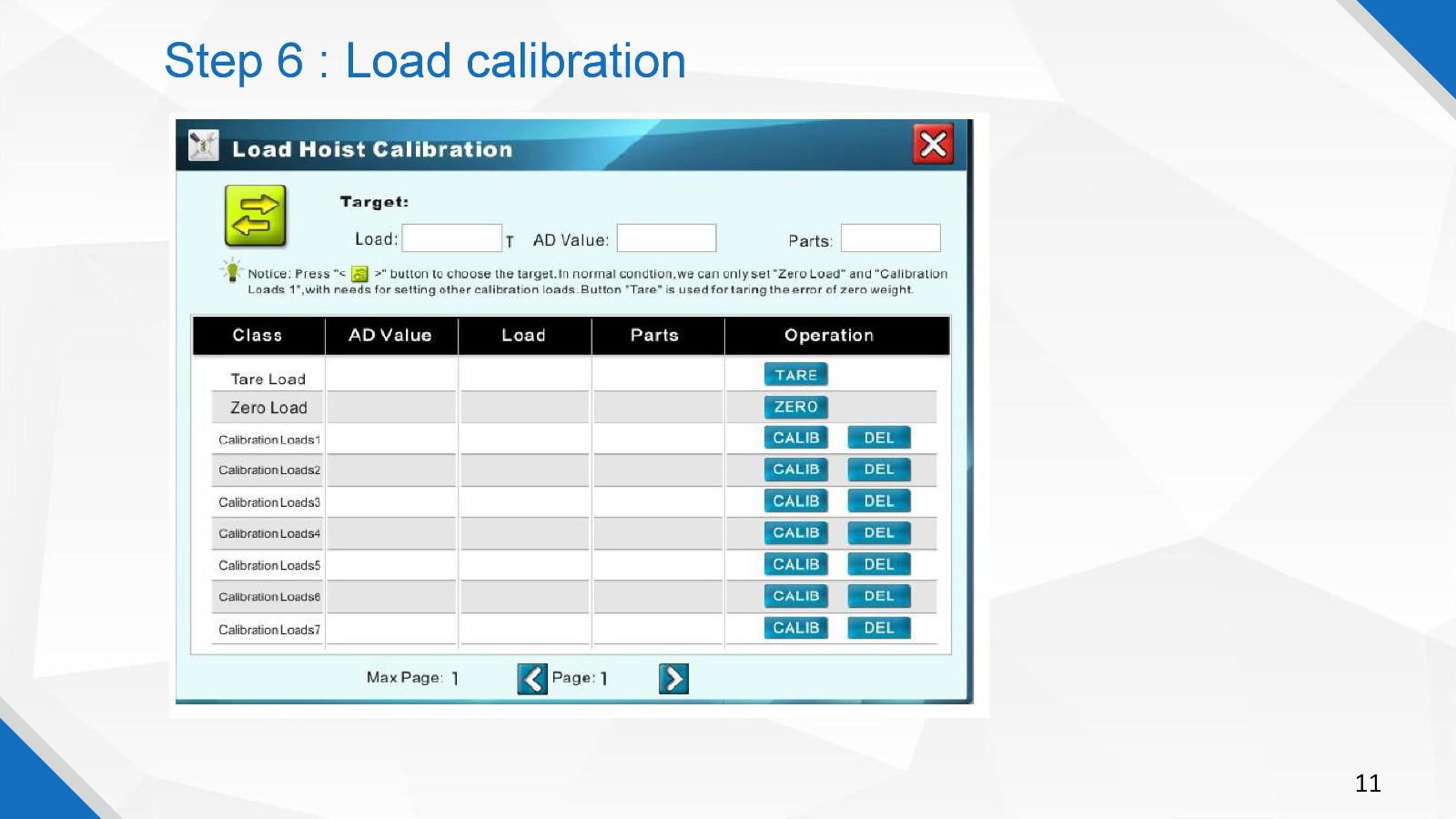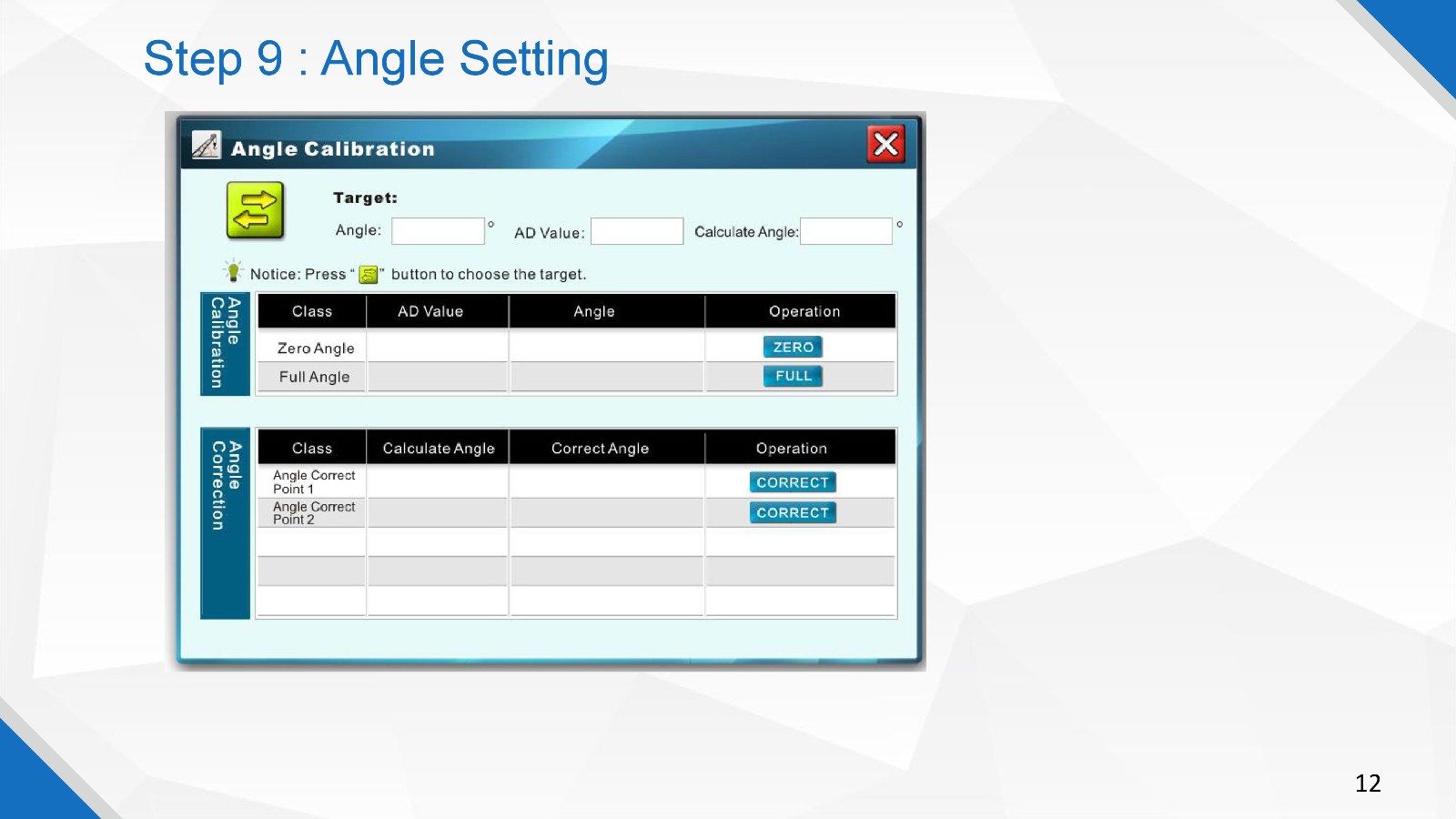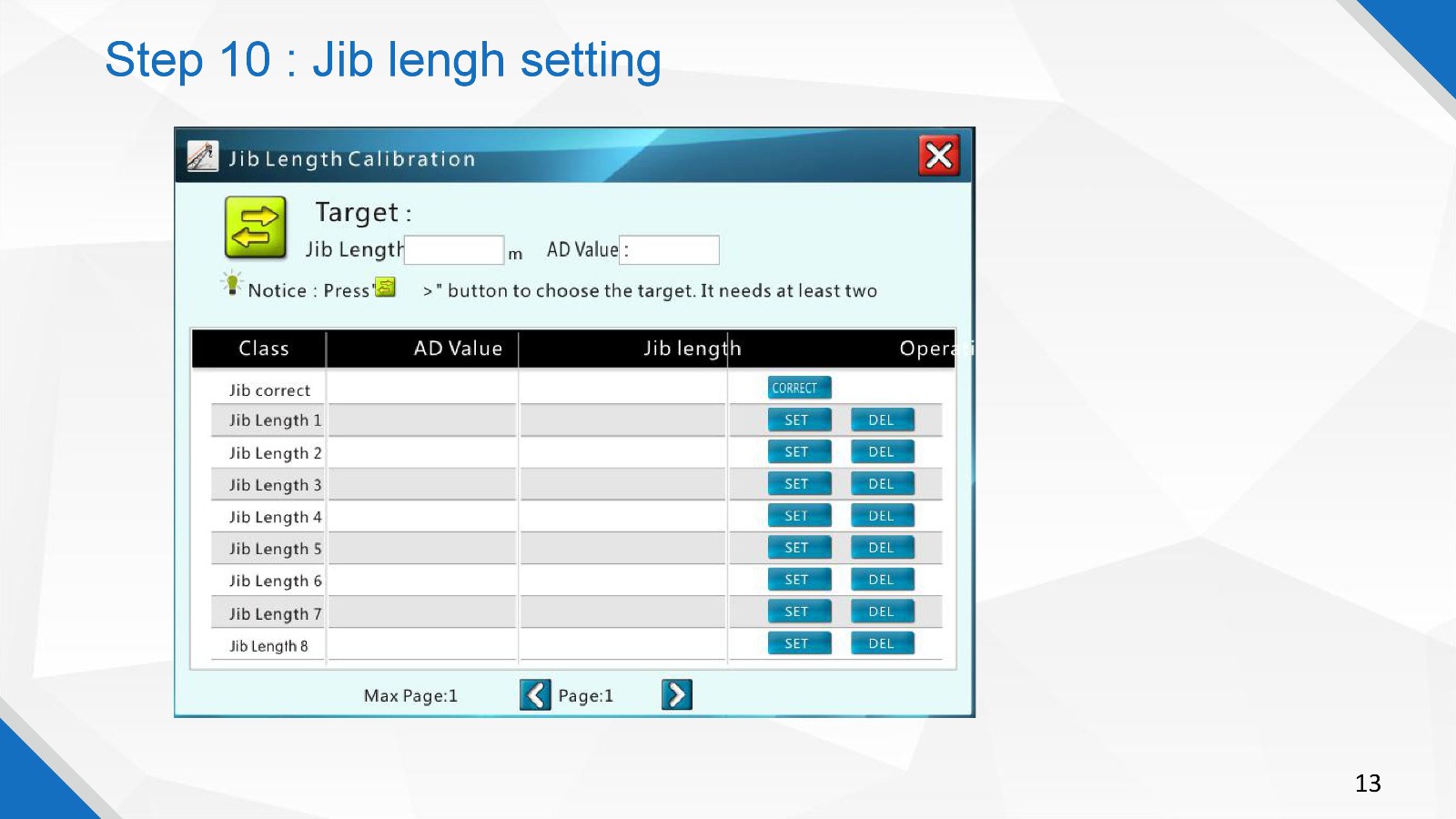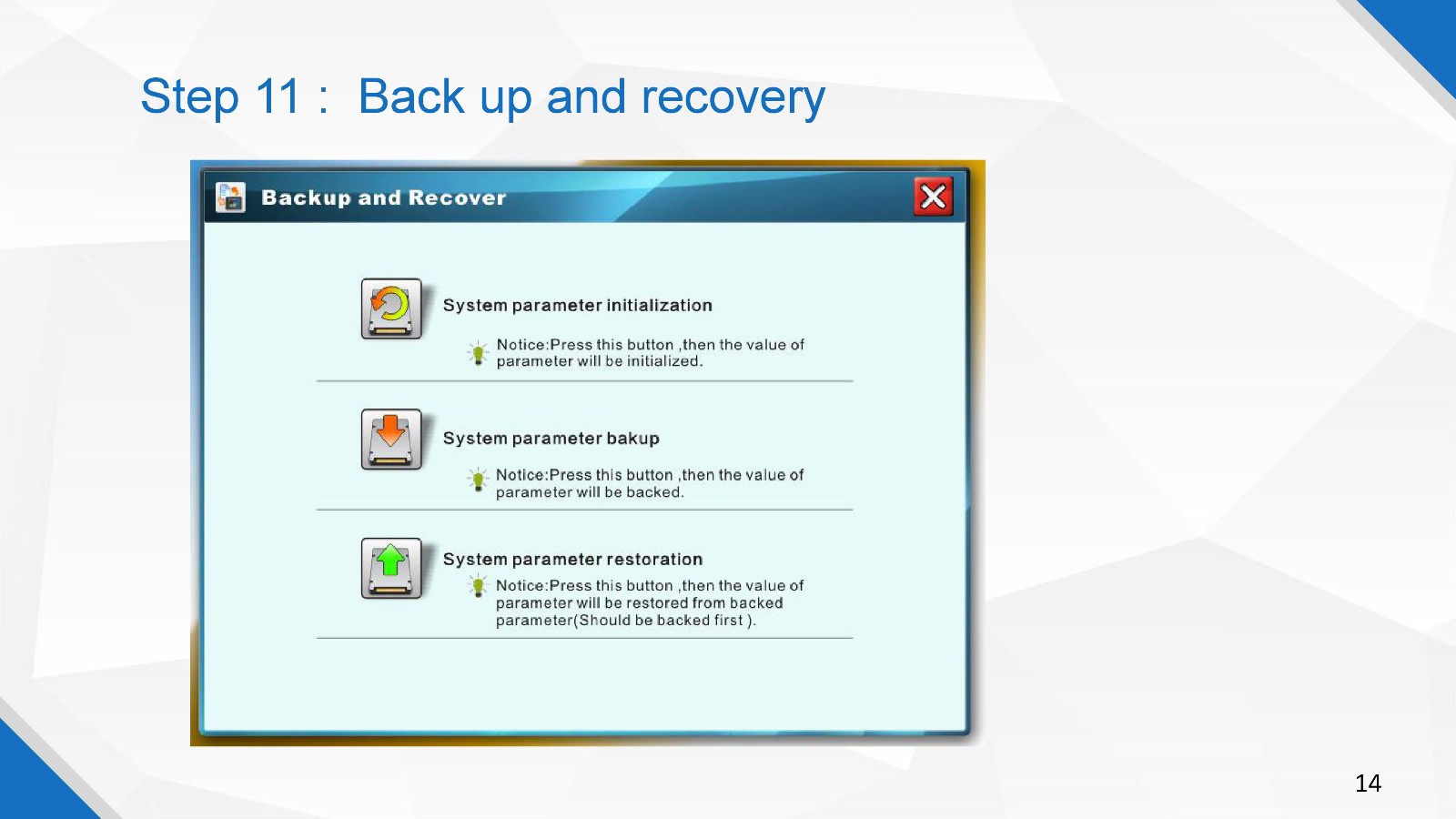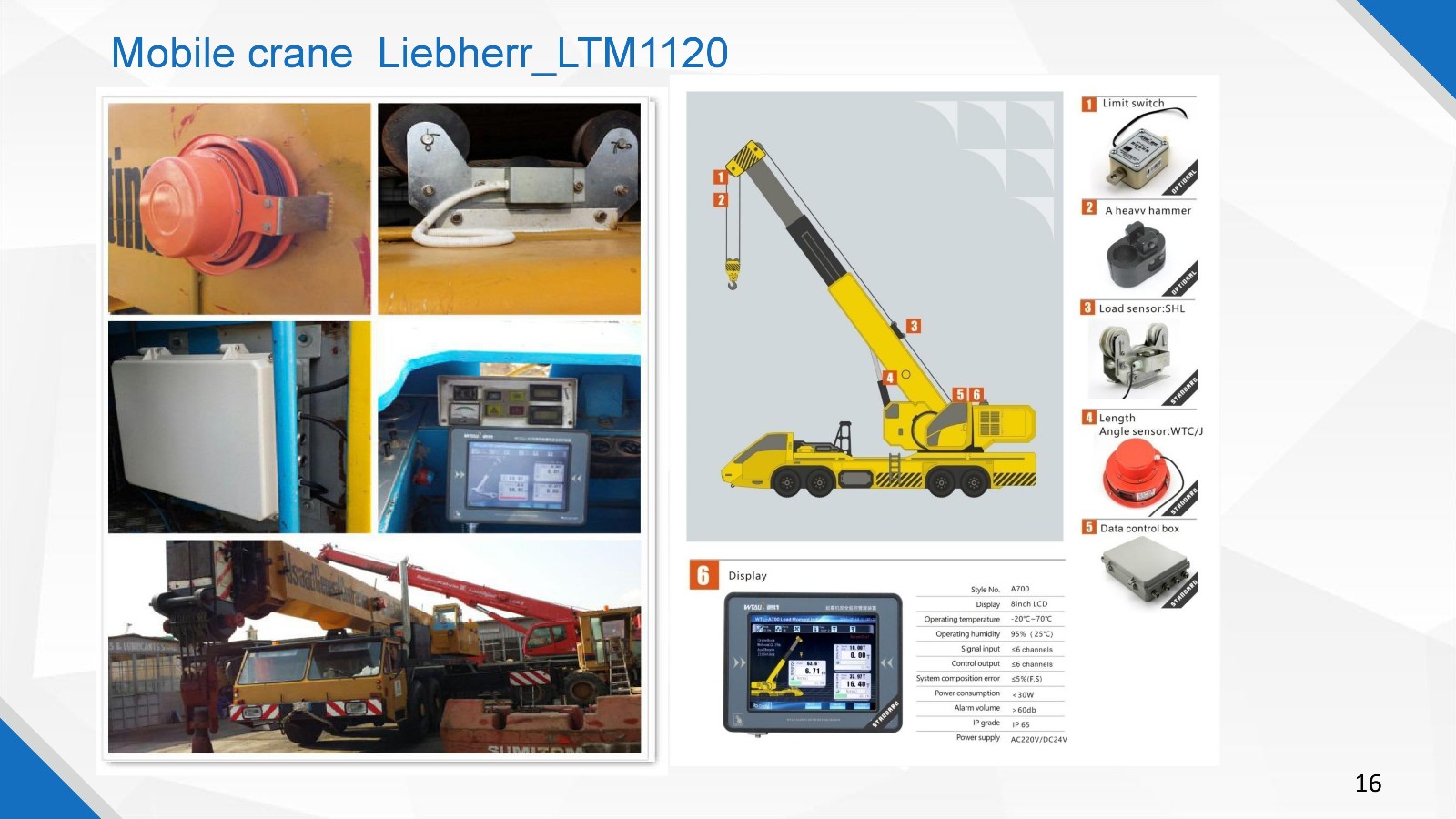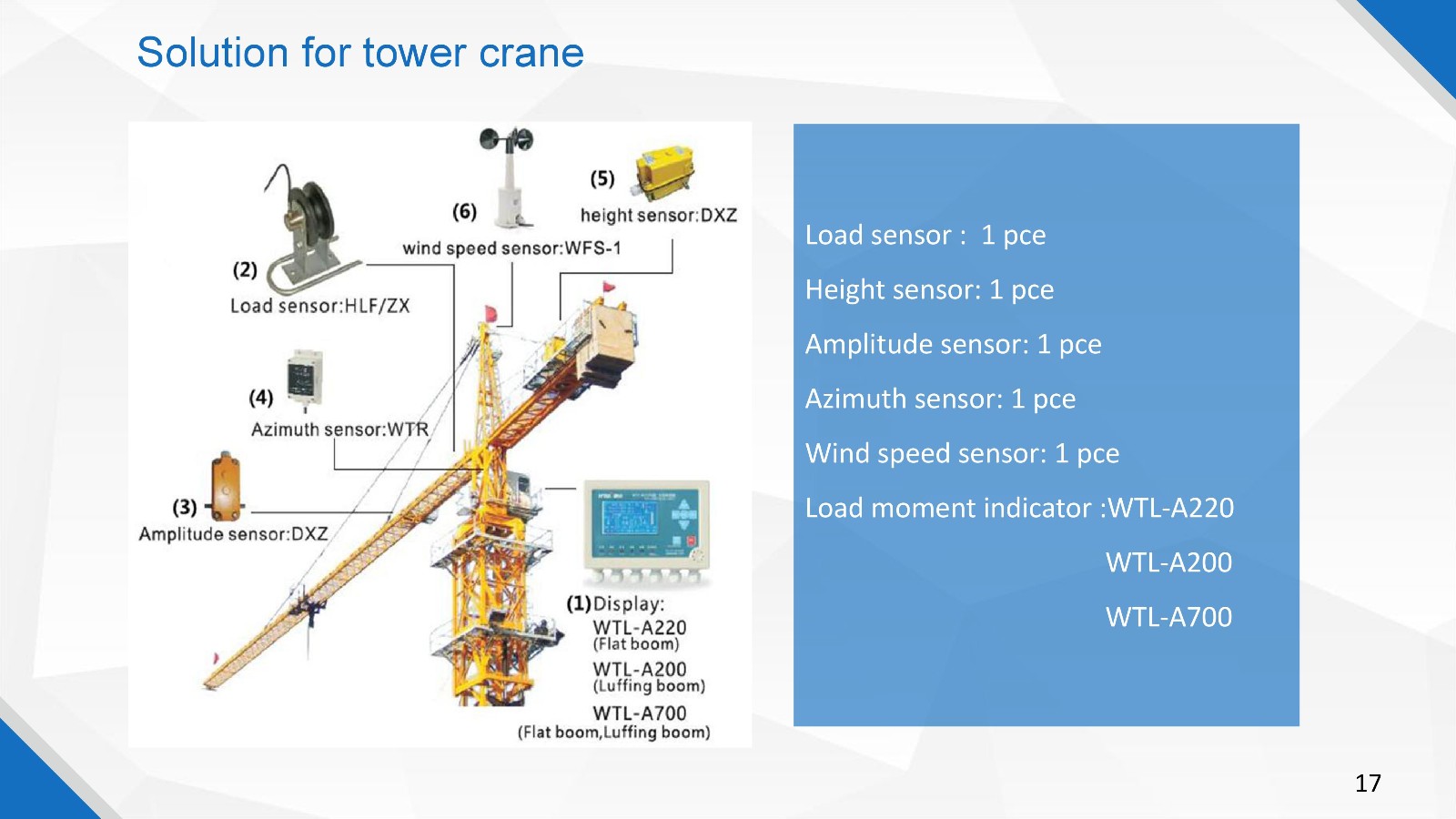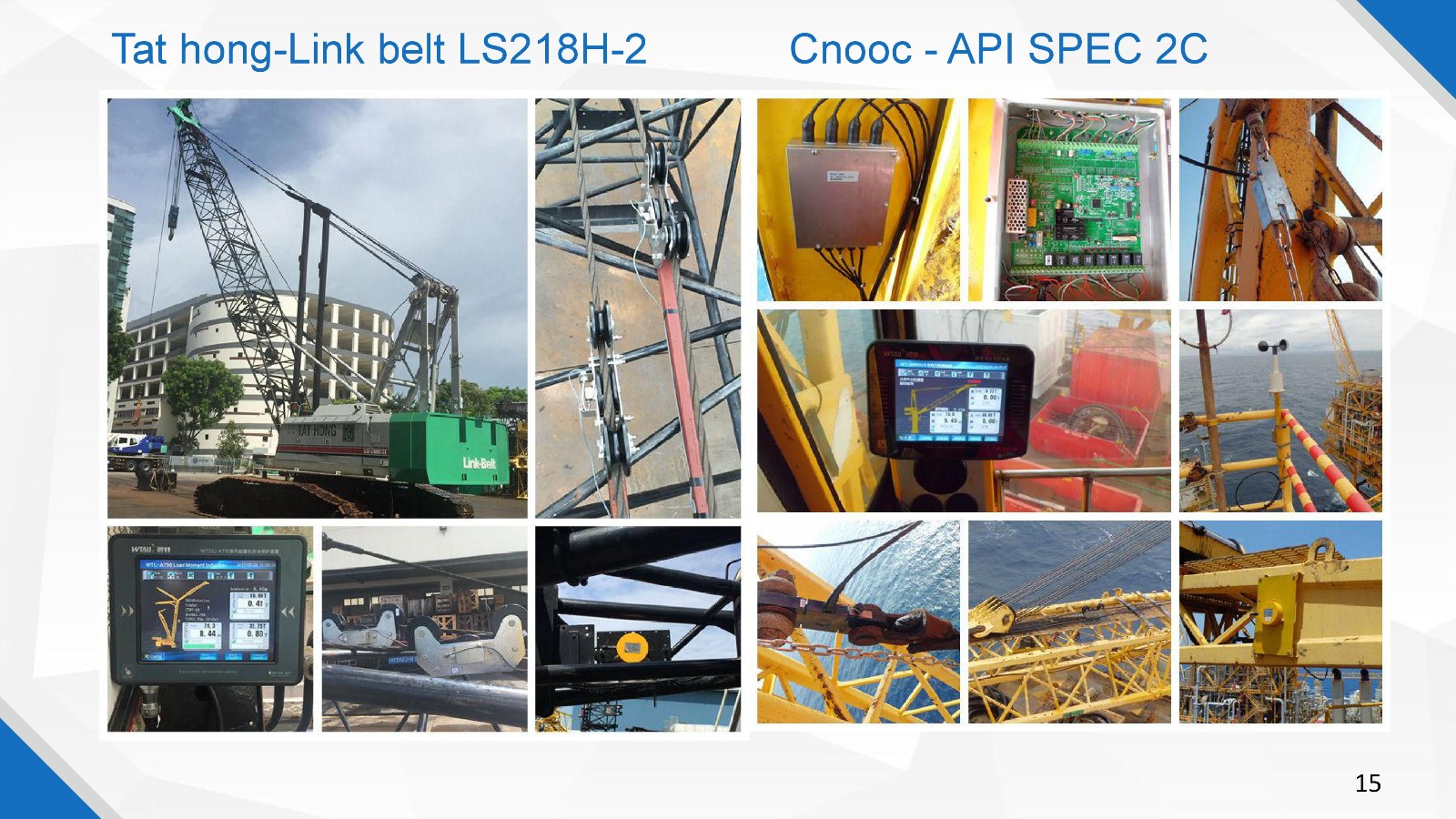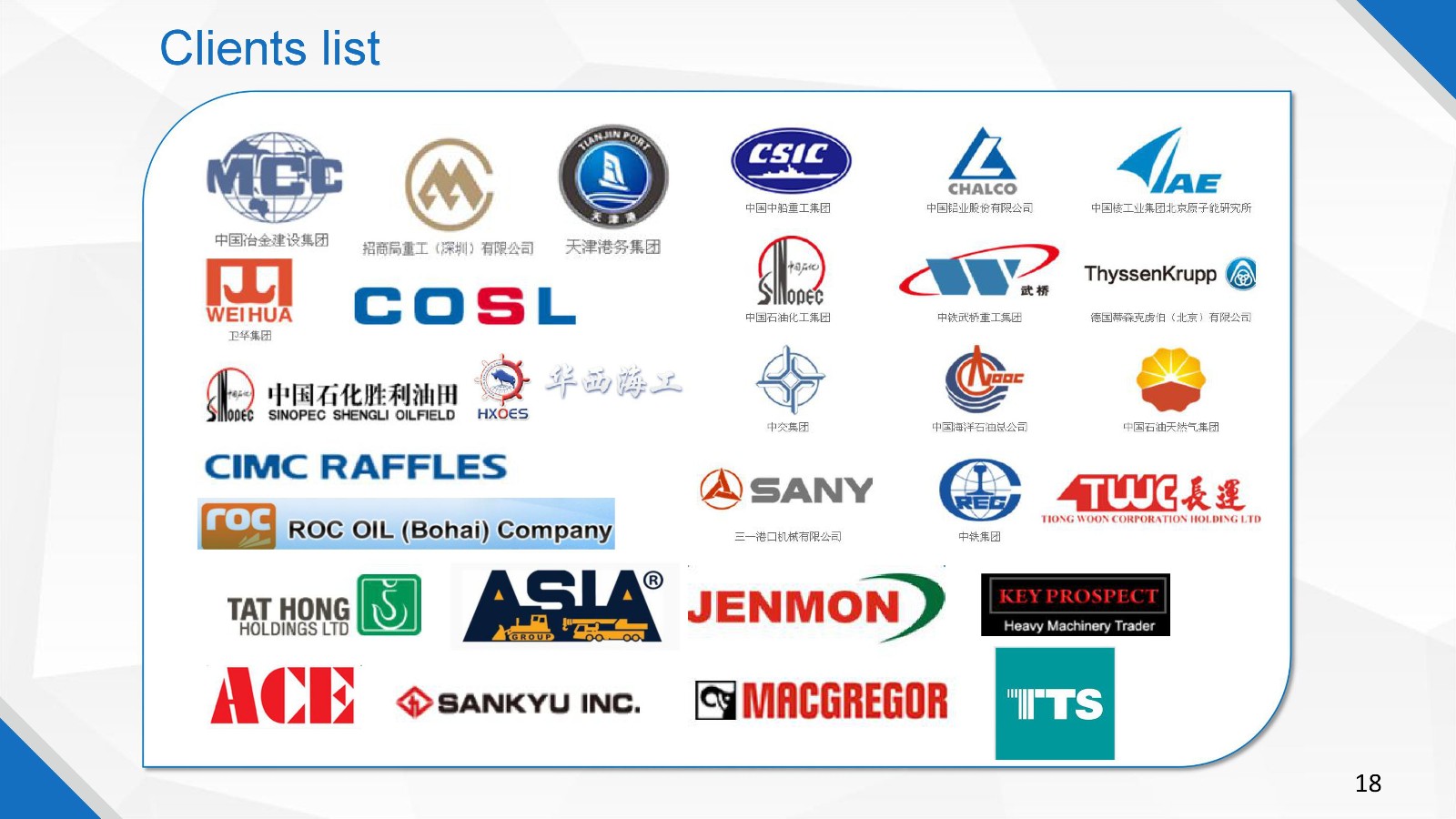 What is Crane Load Moment Indicator (LMI)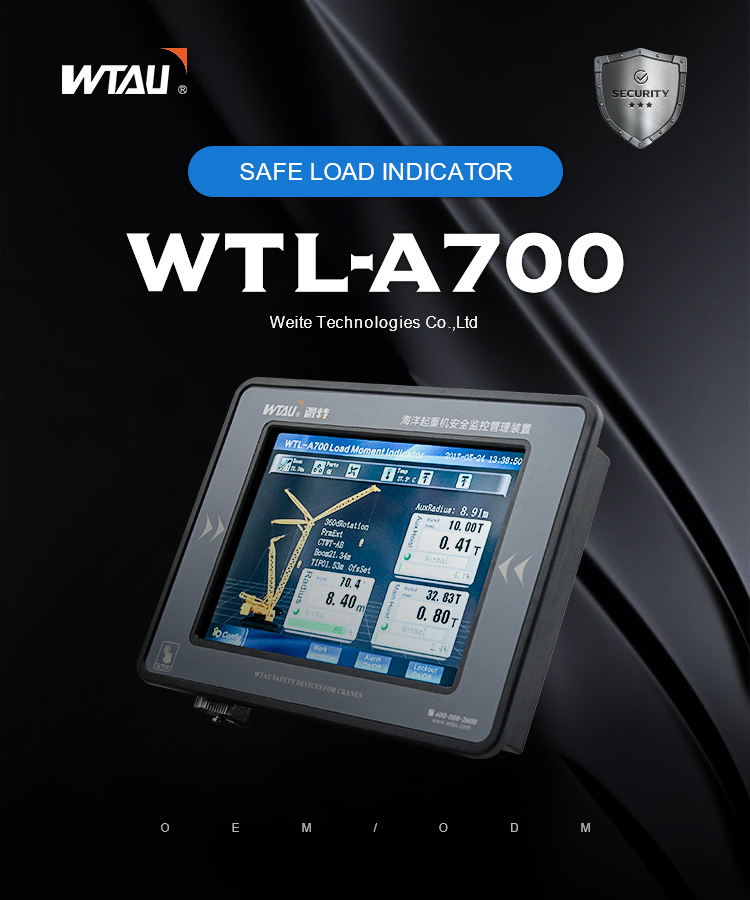 Load Moment Indicator (which also called "Safe load Indicator"(SLI) or "Crane computer") is a device which is installed on mobile, crawler, tower, gantry or portal crane. It alert the operator if the lift is exceeding the safe operating range. In some cases, the device will physically lock out the machinery in circumstances which considered to be unsafe. The crane LMI systems are usually composed of a main console connected to various sensors on the crane itself.
The Safe Load Indicator SLI can measures the angle and extension of the crane boom along with the load weight and compares it with the manufacturer's specifications to determine if the lift is safe. A safe load indicator has the capability of detecting the working radius of the lifting device as well. It controls the lifting equipment to function as per the manufacturer's suggested safe load charts. Each of the measured parameters will then further be displayed in the operator's cabin.
BTW, as the crane types differs, thus different components will be offered respondently. Such as Mobile telescopic crane will ask for length angle sensors, but crawler lattice crane will not.  The tower crane will require the slewing limit switch and lever indicator, etc.  For offshore and marine cranes, as the hazardous enviroment, the safety system will also require camera system beside the Load moment indicator(LMI).
Weite Technologies Co., Ltd has 17-year exeperience in both onshore and offshore crane safety protections. Its modernest WTL-A700 Safe Load Indicator can be applied for different cranes. If you have any enquires, pls turn to the sales engineer and check the technical parameters first.