Description
SYSTEM FUNCTION INTROUCTION
Based on GB/T28264- 2012(the newest national standard)enforce compliance, WT-W660V3 crane space safety monitoring management system is made for kinds of boom device transformation and ceration, and its applicable to hoisting construction equipment is all areas.
ALL-ROUND REAL-TIME MONITORING
This system taes all-round real-time monitoring to the hoisting equipment, to avoid the crane collide with other equipments around, reduce the occurrence of accidents because of operator's negligence of improper operation, effective keep the crane and equipments around safety.
AIRCRAFT GRADE DATA RECORDER
According to the crane's 3-ddigital coordinates, the system can real-time accurate reflect the condition of real-time monitoring objects,and equipped with aircranft grande data recorder,and it can represent  the key database at different time of the equipment at any time, to provide the traceability of objective history.
THE THREE MODULES TO ENSURE THE SAFE OPERATION OF EQPUIPENT
Based on safety monitoring module, information record module and remote contorl module ,the system achieve crane malfunction self-dagnosis function,give effsctive alarm for possible danger,record fault information for analyzing. to ipprove the safety of equipment.
EQUIPMENT ENVIRONMENT 3-D CONTROL
building crane working condition 3-d digital coordinates, to avoid the crane colide with other equipments around,efeective to keep the crane and equipments around operation safety by sensors and monitoring instrument.
MARINE CRANE TYPICAL APPLICATION SCHEMES(WS-W660V3)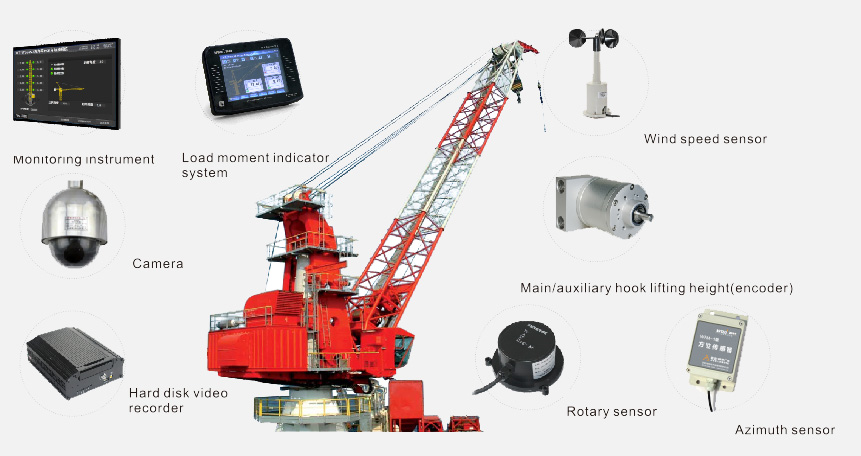 TYPICAL APPLICATION PLATFORM RELATED TECHNICAL PARAMETER
WORKING REQIREMENTS
◆ Input voltage: AC220V/DC24V
FILED COMMUNICATION FUNCTION
◆ Modbus/RTU standard communication protocol (configurs transformation module with different interfaces)
◆ 2 channels USB communication interfaces
◆ 3channels RS232/RS485 communication interfaces
◆ 1channel 100M ethernet interface
◆ Data transfer rate no less than 19.2KBS (remote video transfer rate no less than 512KBS)
◆ Woring temperature: -40~+70degree centigrade
◆ System communication error code rate no greater than 1.5%
REMOTE COMMUNICATION FUNCTION
◆ GPRS, 3G.Internet communication model
◆ Remote  fault diagnosis
◆ Remote  equipment maintenance
GRAPHICS TERMINAL
◆ 10.4  inch TFT colorful LCD touching screen
◆ Working temperature: 30~+50  degree centigrade
TYPICAL APPLICATION PLATFORM RELATED CHARACTERISTIC

◆ With comon communication interface,passive switch signal interface,4-20mA analog signal interface, impulse signal  interface ,independent ent extensible  I/O function. System data use modbus or profibus communication.
◆ Can vies real-time operating historic records and analysis to judge the correctness of the operation in the background .
◆ Can upload all kinds of system running nformation and save it in server.
◆ Can remote view GPS position of equipment.
◆ Can do warning, alarm an control for common fault and save fault information ,improve equipment operation safety and reliability.
◆ Manage system historic running information.
◆ Redlize remote maintenance by remote module.
◆ Offer PLC communication interface,read all kinds of real-tie data and real-display.