Description
Description 

WTF-B500 anemometer are used in the meteorological observatory (station), chemical industry, power station, Industrial and mining establishment to record the wind's traveling schedule and observe instantaneous wind speed installment. The anemometer can realize the equipment wind speed instruction digitally and automatically. And it is essential sophisticated equipment for some modern equipment.
Anemometer is composed with STC12C2052 single-chip and its related periphery line, the display screen adopts two windows high brightness eight nixie tubes which can display currently actual wind speed and wind scale separately.
WTF-B500 Anemometer Components
1.WTF Intelligent Display
2.WFS-2 Wind Speed Sensor
3.Cable (10 meter standard cable )
Function Description
The WTF-B500 anemometer / wind meter offers users a very effective and proven solution for monitoring wind speed.When actual wind scale rises to the parameter which we signed Pxx , indicator will alarm, guiding lights will flicker, and control relay action.
Data Logger Can Be Customized
When monitoring value reaches preset value of the monitor, sending out sound and light alarm signal, which can control by output switch signal. The anemometer  monitor with circulation records data function, record period is 1 minute, with more than 50000 records storage functions , the recording time of the histrical  data can be set as needed ,and the  histrical data records can be download from the anemometer  monitor by U disk.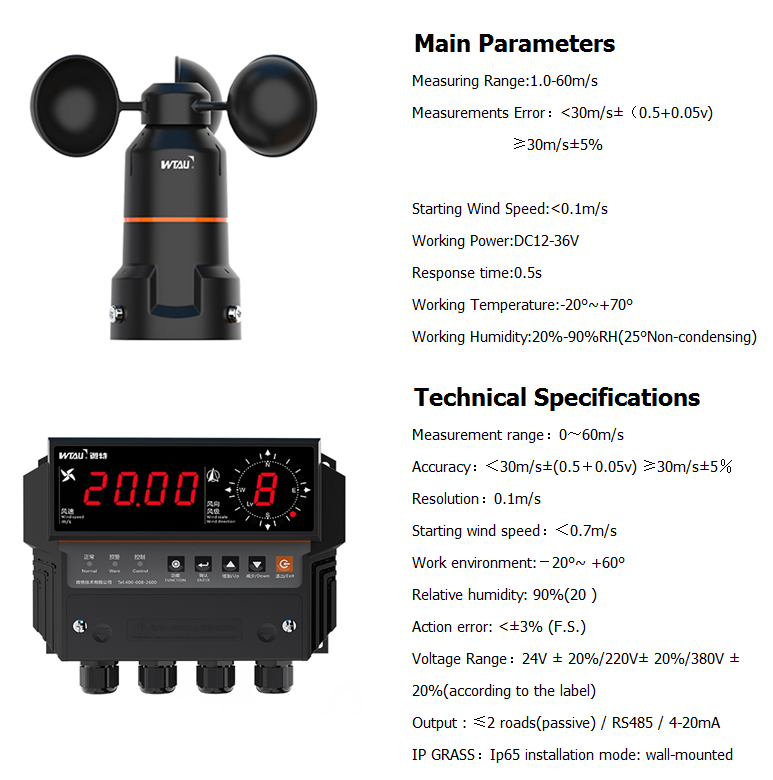 Package