Description
The WTAU WT-W660V2 tower anti-collision system is a safety and/or driver assistance device for the management of the tower cranes operations on construction sites with two or morecranes. It helps the crane operator to anticipate the risk of collision between the  moving parts of his crane and those of the neighboring crane.
The new system of tower crane equipments'zone protection anti-collision system, adopted with the most advanced millimeter wave radar sensor design, it is the active detection of obstacles entering the detection area, sending alarm information to the cabin, ensure the operators reaction in time to avoid accidents Or provide control signals to command the hoisting equipment directly. The data is connected by CAN signal and the data connection is stable. Detect horizontal obstacles and use data feedback to detect obstacles on both sides of the boom horizontally to prevent collisions with buildings and other lifting equipment.
After fixed the millimeter wave radar sensor on the boom with a U-shaped clamp, and fixed the sensor on the boom, connect and set all the data, choose the suitable relative distance,then the system can work. The millimeter wave radar sensor has flexible installation position and is suitable for various anti-collision application platforms. Six or more modules can be installed according to the application requirements, and low-power electromagnetic beams are transmitted to the surroundings, and the echo signals are captured to calculate the distance, speed, and angle of the obstacles; through the calculation of the monitor, Alarm warning is provided to prevent collisions from occurring.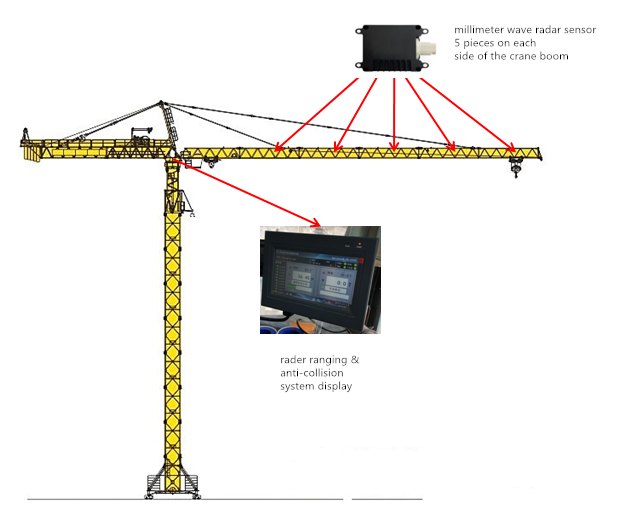 Usually, the working range of the tower crane is limited to the boundary of the construction site. If the crane boom hits the obstacle, also resulting heavy losses sometime stalls the project and even fatal accidents are being happened.The anti collision system can limit the operating range of the tower crane and provide alarming in advance to avoid the above risks.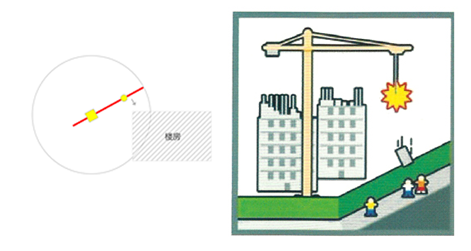 The Main interface of the Monitor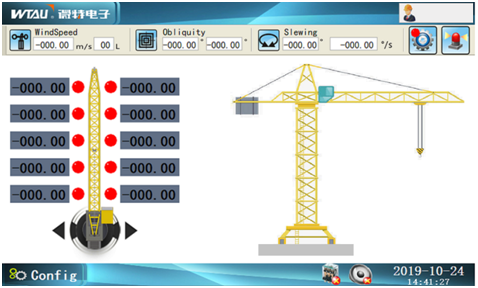 Advantages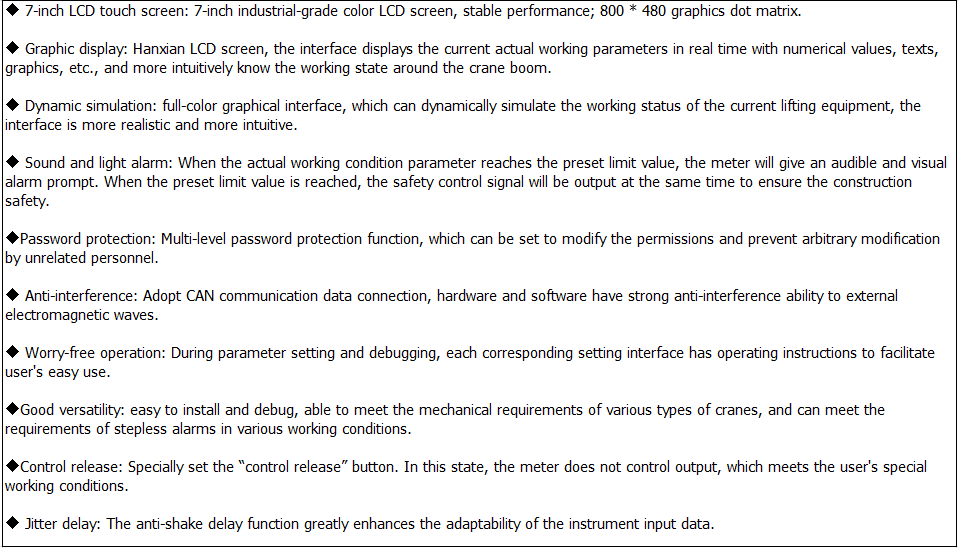 The main parameters