Description
PRODUCT INTRODUCTION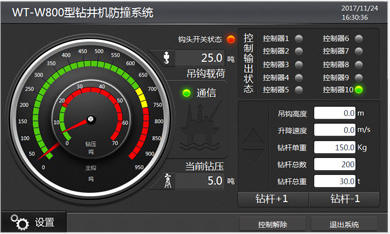 WT-W800V workover rig loab and anti-collision system is consist of monitoring host, load sensor,winch sensor,electromagnetic dirctional valve,audible and visual alarm and lines .lts function is to minitor working condition,parameters, hook hoisting speed of the drilling rig and remind driver,or driver directional control valve to open the the steam(fluid)road system.prevent the hook collision.
FUNCTION INTRODUCTION
◆ Electronic weighing scale is used to measure the drill heavy and pressure when hung. replace mechanical pointer table with LCD screen, replace hydraulic generator with electronic sensors,hsa a higher precision of acquisition and display. In addition to the analog pointer, and digital visual display,because have the ability to spontaneously light,thus showing a more clear and bright.
◆ Hook height drum or hook calibration can be usde to realize the hook position accurate and fast calibration and adjustement. Drum calibration is determined by calculating length of wire rope which oh the roller to debug hook theory calculation.Hook calibration is determined by measuring the hook of the actual moving distance and winch sensor output value to calcuate the corresponding relationship between hook height.
◆ When the hook height value deviated from its actual value because of hanging load,it can be adjusted automatically through the buttons
◆ Display hook speed value.According to different drilling rig hoisting characteristic curve,hook speed accurate calibration by hanging load.
◆ Indicate hook lifting state.
◆ Instrument can set hook upper limit and lower limit  ararm,the corresponding emergency alarm are output relay,can drive the acousto-optic alarm or brake actuators.
◆ Meet explosion-proof electrical safety standards.
◆ According to the need ,can increase other related parameters.